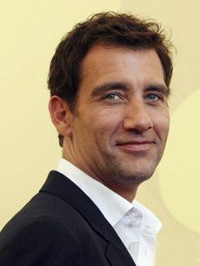 Toronto Film Festival
"I have two lives, mate," Clive Owen says with clear-eyed certainty. "My work, and when I am done, my home life. There is no question to me which is more important. My wife and children are everything to me."
Owen is as intense in person as he is in some of the roles he played on screen the last few years. Best known as a tough guy type in films such as "Sin City" and "Shoot 'Em Up," he is also brilliant without the edge, as evident in "Bent" and his Oscar-nominated turn in "Closer." He sits close to me, his eyes never leave mine, and when I glance down to make a note he is still staring at me. But when he smiles his eyes smile as well. As Scott Hicks says, "Clive loves his life, he loves his family, his girls, his work, and his success…he loves his life."
I wondered how much that love for family and life allowed Owen to tap into the mind of the character he portrays so very well in "The Boys are Back," the new film from Aussie director Hicks, who first made an impact here back in 1996 with "Shine." Owen has emerged as one of the great British actors in recent years, his scalding performance in "Closer" an extraordinary poiece of acting that seemed to blow everyone else in the film off the screen, no mean feat considering the quality of the acting in the movie. Julia Roberts and Natalie Portman gave career best work in the film, many of their scenes coming opposite the actor in front of me.
Owen's road to this place began in television, with his first memorable film performance coming in the powerful drama "Bent," based on the play by Martin Sherman about Hitler's massacre of homosexuals during the Holocaust. It was "Gosford Park" that next earned him strong notices, followed by a role in "The Bourne Identity" with Matt Damon.
After the box office failure of "King Arthur," Owen was back in theaters with "Closer," which changed the course of his career. Brilliant work in "Children of Men," "Inside Man" and, more recently, the under-appreciated "Duplicity," have made him one of the top stars working in film today, and among the busiest. At one time he was among the leading contenders for the role of James Bond, a role that eventually went to Daniel Craig. He possesses a Bogart tough guy persona, but with a soft side buried within. There is certainly an edge to his work, but there is a heart there as well.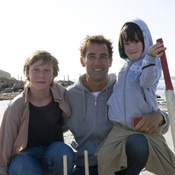 "I've never done a film like this before, an honest family drama, so well-written, that I thought it might be a nice challenge for me as an actor," he explains of Hicks's film. "So I said yes. My kids are girls, and my kids in the film are boys, and though there is a different dynamic with little girls, without question, being a parent is being a parent and you do what you think you need to do. So being a father was an influence. There was so much to draw on. I felt strongly about so much of the material, and there were so many choices to make.
"Kids from birth to eight are…well, crazy, always moving always on the go, and you have to learn to live with that. It is your job to adapt to them not the other way around. So when tragedy comes in this film, my character does not have to grieve because he has to make sure his son is going to be okay."
In the film Owen stars as a sports writer who becomes a widower quite suddenly, throwing his world into utter turmoil. Devastated by the loss, he can barely function, but he must, because he quickly becomes aware his young son is not dealing with his mother's death well.
"Life is messy, and parenting is no different," he says. "In many films when you see families portrayed, it's all so neat and tidy, but that is just so far from the truth. You are constantly negotiating. There are things that are always developing and I feel you are always evaluating how to be a parent."
Owen says he tends to do a great deal of preparation when he takes on a role, and "The Boys Are Back" was no exception. He says he wanted it to be right. "I mean, when you're acting with a 6-year-old, you cannot expect them to do anything other than what they do, and you know each time that camera rolls that whatever they do is going to be real," he says. "Wokring with kids is like working without a net in a circus: they will expose you if you're not doing your job. I saw a chance to do something really genuine with this film, things that had not been done before. Getting there, though, getting there is always the challenge.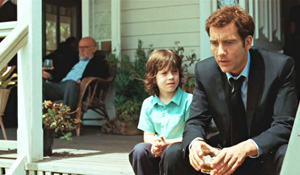 The actor says he was very comfortable on the set with Hicks, who allowed Owen to inject his own sense of experience into the role and bring a personal touch to this situation or that.
"As an actor, I come in knowing where I am going with the role, and I do not do well if I am thrown three or four pages that are brand new because they have not been part of my research, so I need the director to be as prepared as I am," he says. "Which may or may not be right, but it is how I work, and it works for me."
Owen says the days he knew would include scenes with the children in the film caused a bout of butterflies both because of the fact that they keep him on his game and because he was exposing himself emotionally. "There could never be anything phony or we would fail completely," he says.
When asked if he came out of the film a better actor, Owen answers without blinking an eye. "Absolutely," he says. "Absolutely. I mean, how could I not? The kids bring out the absolute truth in what we do because they are not yet capable of doing anything else. It took some pateince sometimes to work with them, but yes, I'm a much better actor than I was before this film, and that is very exciting for me.
"I think the film will resonate stronger with parents because one of our greatest fears is something happening to our spouses, but that is not to say we made it specifically for parents. The film is about loss, so ultimately, it's for anyone who has ever lost someone, has ever grieved for someone. But then again, parents will likely be most impacted by the film. It's not up to me now is it?"
With a bright smile, a firm handshake and a hefty slap on the shoulder, Owen is whisked away by his handlers, off to another interview. You can tell as he greets the next critic he really does love his life, and this film means a great deal to him. He gives what may be his finest performance in "The Boys are Back," and with a decent release and campaign strategy, he could find himself in the Oscar race.