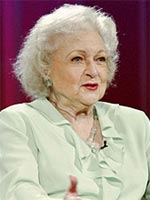 87 year-old Betty White has been named as next year's recipent of the Screen Actors' Guild's lifetime achievement gong, which apparently honors both career achievement and humanitarian work. (Are both those two factors always prerequisites? Just asking.)
Anyway, you go, Rose … you'll be 88 when you collect the prize, lest we forget. Thank you for being a friend, etc, etc. Here's the press statement by SAG head Alan Rosenberg:
"Whether creating some of television's most indelible characters, plunging into film roles with joyous gusto or perfecting the art of the quip as a television panelists and host, Betty White has entertained audiences with her impeccable comic timing and remarkable with for more than 60 years.
He continues:
Her lifelong devotion to the welfare of animals, manifest in her work as an author, producer and philanthropist, is further evidence of her tremendous humanity and meaningful contributions in so many important areas. Screen Actors Guild is honored to celebrate Betty White's extraordinary achievements over the course of an exemplary life."
Nice. Now all we need is Kanye West to remind us which octogenarians are more deserving, and we're good to go.