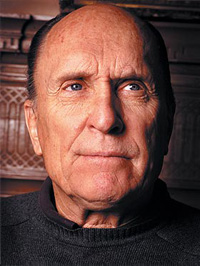 Toronto Film Festival
Sitting down with Robert Duvall is more than a little intimidating. The man does not suffer fools, nor does he have a lot of time for small talk or stupid questions. He likes to talk, but he also likes an informed conversation.  As he nears 80, he is still a force of nature, with a powerful presence and voice that goes up and down depending on his excitement.
Duvall and I first met in 1997 when "The Apostle" exploded out of Toronto, landing the veteran actor a much-deserved Oscar nomination for Best Actor.  The performance was a volcanic, furious portrait of a man trying to atone for his sins by building a church in the backwoods of Louisiana after killing a man in a fit of rage. For 13 years Duvall shopped the project around Hollywood, being turned down by the major and minor studios until his accountant suggested he finance the film himself.  In a position to do so, he did just that, eventually selling the film at TIFF after a famed bidding war.
I got to know him when he invited me to spend some time with him on the set of "John Q" while it was shooting here in Toronto, the invitation coming during the 2000 Film Festival when I interviewed him a few times for his soccer picture, "A Shot at Glory," in which he co-starred with soccer star Ally McCoist.  In the years since, Duvall has kept himself busy with great roles and performances in films such as "Broken Trail," for which he won the Emmy Award for Best Actor, and "Kicking and Screaming," a soccer comedy with Will Farrell that seemed like an odd choice for the actor.
Recognized as one of America's greatest thespians, Duvall has given an array of brilliant performances over the years, from his breakthrough, shy Boo, in "To Kill a Mockingbird" through to his mafia lawyer Tom Hagen in "The Godfather" and "The Godfather Part II" and perhaps most memorable of all, Kilgore in "Apocalypse Now." He came into his own in the 1970s, at a time when other major talents such as Jack Nicholson, Dustin Hoffman, Al Pacino, Robert De Niro and Gene Hackman were also turning in brilliant performances, changing the face of American acting.
Six times he has been nominated for the Academy Award, winning for 1980's "Tender Mercies."  Not of the classic movie star mold, Duvall has always been content to simply be an artist who seeks out great characters and find the truth in them; nothing else matters to him.  He's had his misfires (sucha s "The Scarlett Letter"), but of all his contemporaries, he has remained the most consistent.
"In the studio films I am usually cast as the supporting guy," the actor explains.  "These little independent films offer me the chance to do the lead, and do a great role."
He is speaking of course of his performance in "Get Low," in which he plays a mysterious hermit living in the woods of Tennessee who decides he wants a living funeral in order to set the record straight about himself before he dies.  Set in the 1930s, the film looks and feels like the work of a favorite Duvall writer.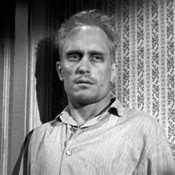 "When I read it, it felt like, it sounded like something my friend Horton Foote would have written," he says.  "And I'll tell you, during the final scene, when we were shooting it, the moment I come clean with my past in the film, I got a call from my wife telling me Horton Foote had died. It was surreal. He was a great writer…the best."
Foote wrote the adaptation of Harper Lee's "To Kill a Mockingbird," which in 1962 marked Duvall's triumphant screen debut. Years later the two partnered for the superb little film "Tender Mercies," in which Duvall portrayed a down-and-out country and western singer who finds redemption in a young woman and her son running a gas station. Both Duvall and Foote won Academy Awards for their work on the film, one of several efforts they would collaborate on throughout their respective careers.  In addition to the Oscar, Duvall won awards from the Los Angeles Film Critics Association, the New York Film Critics Circle and the Hollywood Foreign Press Association, making the performance one of the most acclaimed pieces of acting ever put on screen.
Regarding the state of acting today, Duvall booms, "Better than ever…hoo boy some of these young guys? Man oh man they are doing some good work. You look at Brad [Pitt] in "The Assassination of Jesse James by the Coward Robert Ford" or Johnny Depp, or so many of these young guys, they are as good as the best guys of the 1970s.
"What people forget about the 1970s is that while there were a lot of really great movies being made, there were also a lot of stinkers being made.  The difference today is that so much emphasis is put on box office, the opening weekend numbers.  In the 1970s, films had a chance to find an audience, to grow.  Now they get them out fast and get on those DVD things quicker and then we're on to the next one."
"Get Low" took five-to-eight years to get going, Duvall says, "and that's a long time for a little picture like this to sit around. Finally someone gave us the money to make it and away we went. It's hard to get movies today; there's no money for them and then there's so much pressure on them to make the money back. This is the kind of movie I think people like to see, a real story, maybe even a real American story, and they're a dying breed."
Duvall was a huge fan of Marlon Brando during the 1950s and early-1960s, and as mentioned in this space before, Sanford Meisner once compared the two of them.  "I was thrilled to be working with him on 'The Chase,'" he says.  "The first day we spoke and talked, but the second day he walked right by me like he didn't know me.  He was a weird guy, but man he was my hero.  We had a ball making 'The Godfather,' Jimmy Cann and me, so many practical jokes, and Coppola, man that was a director."
Duvall cites Robert Altman and Francis Coppola as the two filmmakers he holds in the highest esteem, with kind words also for Ulu Grosbard, who guided the actor in "True Confessions."  He says what he requires from a director, really, is to be left alone.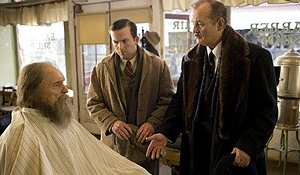 "They know my work, they know what I can do, and yeah, I like to talk about it, but I don't like to talk it to death, let's just do it," he says.  "And I like to try things.  One of the things I learned from Meisner was improv, the value of improvisation on set.
"I did one with Viggo Mortenson in 'The Road,' that scene around the campfire, when I tell him I had a son? I threw that at him before we shot the scene.  And 'The Apostle' had lots of improv, but I had lived with that character for so long, I understood him, I knew him, he was me."
Ask Duvall which of his many roles constitutes his finest work one might expect to hear Kilgore, Hagen, Sonny, any of his most defining roles.  But he names Gus McCrae, the Texas Ranger he played in the masterful TV mini-series "Lonesome Dove."
"I have my ex-wife to thank for that," he says.  "The producers asked me if I wanted to play the other part, Call, the one Tommy Lee [Jones] played, but my ex-wife told me not to be crazy, play Augustus. She was right, and I thank her for that. I always say the British can play their Hamlet and King Lear, I'll play Gus McCrae any time."
Duvall admits there's a part of him in all his characters, but something clicked with McCrae, as it did with the actor's latest.
"There was something special about playing Gus," he says wistfully.  "You can feel it when it's happening. You could feel it on 'Get Low' as well. There was something very special happening on the set.  We'll see.  We'll see."