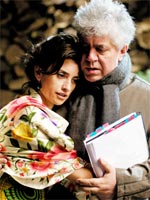 Keeping up our watch on the Best Foreign Language Film race, one of the category's regular players, Spain, has come one step closer to making its official submission — having revealed the final three films in contention for the spot.
Some will be surprised that Pedro Almodóvar's "Broken Embraces" — the year's most globally-discussed Spanish production by a long shot — isn't on the list. They shouldn't be. Contrary to what some may expect, Almodóvar and the Spanish Academy selectors have an on-and-off relationship.
Five of the auteur's films have previously been submitted for the award — though only two ("Women on the Verge of a Nervous Breakdown" and "All About My Mother") were ultimately nominated. The latter, of course, won the 1999 race. But Almodóvar has been prominently sidelined before — as in 2002, when the selectors unwisely decided against submitting "Talk to Her," the film that eventually won the director a screenplay Oscar in spite of the snub. (D'oh!)
The Spanish selection committee tends to groove only to the director's warmer, gentler works, so a coolly designed genre work like " Broken Embraces" — not among the director's best, in any case — was always going to face an uphill climb in the category. Foreign-language nod aside, some may still rate its chances in the Best Actress or Best Original Screenplay races, but both are on the chilly side for Oscar voters. Rodrigo Prieto's crisp cinematography may yet represent its best shot at Academy recognition, but we're still talking outside-shot status here.
Anyway, the three shortlisted Spanish titles are: "Gordos" from Daniel Sanchez-Arevalo, "The Dancer and the Thief" from Fernando Trueba (a previous winner in the category for 1993's "Belle Epoque") and Isabel Coixet's "Map of the Sounds of Tokyo," looking to regain its fortunes after a critical drubbing in Cannes.We'll fill you in more when a decision is made.
Finally, a few more official submissions to add to the list: "Involuntary" from Sweden, "Doomed Love" from Portugal, "Autumn of the Magician" from Armenia and "Waterhole" from Lithuania. As always, any local knowledge you can provide on these titles –and the race in general — is much valued and appreciated.