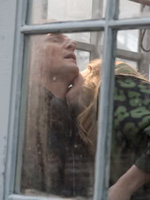 (Please note, as opposed to Kris and Guy, I tend to grade films on a 5-star scale.)
Loads to catch up on today and some interviews still to write up. First off, I have to confess that I disagree with Kris's review of "The Road," respectfully of course, and I think I have a reason why I might have viewed and appreciated the film in a very different light than he.  I also saw Werner Herzog's "The Bad Lieutenant: Port of Call New Orleans," which features a hugely entertaining performance from Nicolas Cage, and the latest from Atom Egoyan, "Chloe," which features a splendid performance from Amanda Seyfreid.
Let's dig in…
"The Road" (****)
This was a dark and unsettling film based on the brilliant book by Cormac McCarthy about a father (Viggo Mortensen) and son (Kodi Smit-McPhee) journeying to the south after the world has essentially seen its end of days. We are never really given a clear explanation as to what happened, but the vague description we do get sounds like nuclear war finally came, and the planet is dying a slow death.  Trees are dead, there is nothing alive or growing anymore, the world is a gray and dreary place, as though hell had suddenly burst forth from the bowels of the earth.  The south brings warmer weather, which is what the man and his son need, he believes, to survive, and survivial is what the film is about.
The father will do anything to protect his son from harm, even if it means putting a bullet in the child's head so he will not suffer at the hands of others.  As he tells the boy, "That's my job," and it is a job he takes very seriously. He remembers, usually in dreams, the better times with his wife, portrayed by the lovely Charlize Theron, though those flashbacks take a dark turn when she leaves him, unable to deal with the doom she knows is coming.
Memory is a terrible thing.  It invades our dreams and is always there in the landscape of our minds to take us back to a time when things were better, or even worse.  The man's memories are of a world that was alive.  There was a future.  Hope still existed.  In the barren and corrosive landscape these two are moving across, there is a challenge in seeing any hope for a future that may not even exist.  But the man is a parent, and we parents see hope in the eyes of our children whenever we look into them. He will keep moving for the boy, he will teach the boy how to survive, and he will do anything to anyone who tries to do harm to the boy.
As the pair journey south they encounter gangs that thrive on cannibalism, or homes that hold human beings in their basements as food. Through the boys eyes there are "good guys" and "bad guys," and he and his father's job is to avoid at all costs the "bad guys."  There are small victories, such as discovering an underground shelter full of food, but these are short-lived because they must keep moving.
Kris mentioned an encounter they have with an old man (Robert Duvall), who could not possibly do them harm, yet the man keeps his gaze on the old-timer, forever protecting the boy.  In his review of the film, Kris felt that the man might instead have a conversation with an adult, talk about how things where, share some joy rather than be so protective of the child, but as a parent, I can personally state that any parent would be hyper sensitive and paranoid in this situation because anyone, ANYONE, could mean the boy harm.
I felt "The Road" was a masterful film, one of the best of the festival, superbly directed by John Hillcoat and brilliantly acted by Viggo Mortenson and Robert Duvall.  I do share the same feelings Kris had about the young Kodi Smith-McPhee in that many of his lines are shrill and wildly over the top. Though I understand why his character would become more and more whiny (regressing), it became rather annoying. That, however, is a small quibble for a brilliant film.  The images of a dying earth are haunting and grim, a bold presentation of what could become of this planet we call home.
"The Bad Lieutenant: Port of Call New Orleans" (***)
Nicolas Cage is an actor whom I consider to be without fear. He throws himself into his performances with an energy that is hypnotic, and even when he fails (which he often has), he is interesting to watch. Cage is the sort of actor we all wanted to be at one time or another when I was studying, the sort that was fearless, who would risk a bad performance to try something unique, who gave his other actors so much, often sacrificing himself in the process.
His performance in "Leaving Las Vegas" seemingly won him every possible acting award on the circuit, with the exception of the Independent Spirit Award (which went to Sean Penn in "Dead Man Walking").  Previously he had impressed audiences and critics with strong work in "Racing with the Moon" and "Birdy" and earned their wrath in "Peggy Sue Got Married" (which I found entertaining).
After winning the Oscar, Cage went through an action film phase before earning rave reviews and another Oscar nod for "Adaptation" in dual roles for the great Spike Jonze.  Other notable works recently include "Lord of War" and "The Weather Man,", even trying his hand at directing with the under-appreciated "Sonny."
His work in Werner Herzog's latest, a re-imagining of the Harvey Keitel starrer of 1990, is wildly entertaining, exploding across the screen with extraordinary energy, and obviously having a great deal of fun doing so.  But I found myself wondering while watching the performance, "Though I am enjoying the hell out of this, is it any good?"
The film is light years away from the original film, not nearly as dark or as nasty.  Set in the weeks after the devastating Hurricane Katrina in New Orleans, we see a city in crisis, and a cop on the edge, one who routinely takes things out of the evidence lock up, snorts cocaine, gambles, threatens anyone in his way, including old ladies, and is not above terrorizing a young couple just exiting a nightclub for the sheer fun of it. His superiors know some of what he is up too, but certainly not everything, and he gets away with most of it because he is a good cop and gets results.
He also suffers from crippling back pain, and in addition to the coke, finds himself addicted to painkillers. Juggling several things at once, the most pressing being the slaughter of a family, he soon finds himself in way over his head, having messed with the wrong folks and often staring down the wrong end of a gun.
Herzog's film is very different than the original in that it is not as difficult a viewing, partly because Cage is having so much fun on screen.  This is a bad guy, but he is not the worst of the people on screen, which is how he justifies what he does.  However, I was always aware Cage was acting, that he was having so much fun doing it.  I still could not take my eyes off of him.  He owned the screen and for two hours, he owned that audience, who were either right with the film's intense drama or howling with laughter at his antics.
"Chloe" (***)
I like Atom Egoyan, as a director and a person. His film "The Sweet Hereafter" is a masterpiece that I've written about plenty of times.  But in the years since that effort, he has quielty been making the films he wants to make here in Canada. Egoyan believes in Canadian cinema.  He believes that we make good films here in Canada, and he celebrates that every chance he gets.
"Chloe" was not written to take place in Toronto, but Egoyan decided to set it there anyway. The movie is very different for Egoyan, an erotic thriller about people leading double lives and being reflections of themselves and others, and in his capable hands, the difficult plot works for the most part.
Julianne Moore stars as a doctor who suspects her husband, portrayed by Liam Neeson, is having an affair. She hires a young prostitute, Chloe (Amanda Seyfreid), to get to know her husband and see how far it goes. What she does not count on is being seduced by the hooker herself, before discovering that things are not quite as they seem. We move quickly from a challenging drama about fidelity to a thriller about allowing someone unstable into your marriage and being forced to see the terrible consequences.
There were some moments that I struggled with, however, including an ending that stunned many into uncomfortable laughter, but the director and his superb cast try their best to navigate the bumps.
Anyway, a couple of personal notes.  One of the things I love about festivals is seeing old friends from last year and years gone by and catching up.  I saw the brave Roger Ebert moving from film to film, my friend Bill Chambers from FilmFreakCentral.nett, Scott Feinstein, a publicist out of New York and the great Brian De Palma, up here for the fun of it.  It's always nice to catch up.
Lastly, a personal gripe.  The lines, man.  We arrive at a theater for a 9:00am screening only to be put in line for more than 45 minutes. Not to be a pisser and moaner, but I am handicapped, and standing for long stretches of time is very hard on the legs.  I'm talking deep bone, intense, serious pain, the results of a head-on car accident a few years ago that I'm sure I've mentioned before.  The volunteers see me, but are powerless to help, and there are people far worse off than I that are in the same situation.  It is simply something the festival organizers need to address and deal with.  I want no special treatment, just a spot, even outside the theater, to sit and take the pain away.