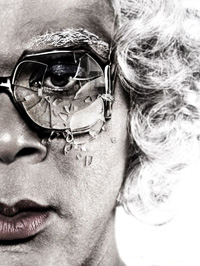 *All historical figures cited are adjusted to today's dollars.
Another day, another dollar for Tyler Perry. The man has released two films a year since 2006 and can't seem to be unsuccessful if he tried. "I Can Do Bad All By Myself" is an easy candidate for worst title of the year, but it opened to the tune of $24 million and first place by a mile.
That ranks as Perry's third-biggest debut as director and his best outside of February. If you are looking for one of the most unique and successful box office stories of the decade, look no further than the rise of the Perry Empire. He is the Pixar of religious cable-TV drama meets fat suit comedy.
Second place goes to "9," which earned $10.9 milion over the weekend and $15.3 million since opening on Wednesday. For a PG-13 rated animated flick with seemingly very little appeal outside of young males, that's a great result. The best thing about this success is that all you need is a potato sack and a highlighter and you've got a recognizable Halloween costume. You're welcome.
"Inglourious Basterds" holds firm in the top three and passes the $100 million mark in the process. Tarantino was in very real danger of making a series of films that diminished his audience rather than expanded it, but he has turned it around here. Now all you need is a Clark Gable mustache and some prop scalps and you've got a recognizable Halloween costume.
Two films duked it out for sixth place and the title of "Most Forgettable New Release" this week. "Sorority Row" looks like the winner, with $5.3 million. The folks at Summit are probably scratching their heads and saying, "This movie would have killed in 1983!" It's been a tough year for the start-up company, outside of "Knowing," and they'll be happy when Thanksgiving comes around and they can unleash "New Moon" on very suspecting teenagers.
"Whiteout" grossed $5.1 million, which is less than "Not Easily Broken," which only opened seven months ago but you've already completely forgotten about it. This is the part where Kate Beckinsale sheepishly signs on for a fourth "Underworld" movie and tries to remind people why she's famous.
Last weekend's new films all dropped precipitously, none more so than "Gamer," which will spend a total of two weeks in the top 10 — one more than "Extract." This is September, folks: in one week and out the other. On the Oscar watch front, Oscilloscope's "No Impact Man" had a decent impact in its limited debut with $18,000 on two screens. Eco-friendly docs are the new black and this joins "The Cove" as one of the most visible so expect one or the other to figure in Oscar's plans.
Speaking of "The Cove," I finally saw it this week and thought it was a pretty good flick. It didn't rock me to the core like it did Tapley, but it's passionate and well-executed. I also saw Lucrecia Martel's "The Headless Woman," which is clearly made by a strong talent but fell a little flat for me. In a perfect world, small films like this and "Paranoid Park," which take bold and visionary chances with their sound design, would be recognized by the Academy.  But alas, explosions and musical numbers will win out every time.
Next week gives the public its first look at a fall Oscar contender with Steven Soderbergh's "The Informant!" Buzz out of the festivals is strong and the marketing has been appealing so I think this can open with a solid $14 million or so.
"Cloudy With a Chance of Meatballs" has the kid crowd cornered, as well as the fatties who get excited by the idea of 3D spaghetti and hot dogs. With those two combined, we should see $18 million or so and a probable number one finish.
"Jennifer's Body" has the misfortune of promoting both its screenwriter and its soundtrack in the trailer. While both may be awesome, it's a bad sign and the buzz has been surprisingly low for what sounded like a hot property on paper six months ago. A disappointing $8 million, and another misfire from Fox, is what my magic 8 ball tells me.
Finally, Universal tells us that "Love Happens" and we should watch it happen to Aaron Eckhart and Jennifer Aniston. I have not seen a preview for this and the billboard I saw made almost me fall asleep at the wheel. $6 million if it's lucky.
What do you guys think?  Here are the weekend's top domestic grossers, courtesy of Exhibitor Relations: