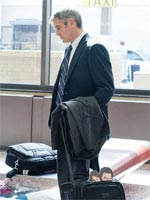 • After weeks of hype, "Up in the Air" landed in Telluride, and delivered. (And finally got a trailer too.)
• Meanwhile, as some compare director Jason Reitman to Billy Wilder, we interviewed him at the festival.
• We also got chatty with possible awards contenders Paul Schneider and Venice prize-winner Mark Boal.
• On the other side of the Atlantic, our Venice coverage continued, including a first look at Michael Moore's "Capitalism: A Love Story."
• Not content with just Telluride and Venice, our Toronto coverage also got under way, while we reminisced earlier on past Toronto glories.
• If all these festival delights are too highbrow, fear not: "The Final Destination" ruled the box-office.
• Back to Oscar news, the Academy revealed this year's honorary award winners. Shame we won't see 'em.
• The Best Original Song race began to take shape, with news on compositions for "Precious," "Up in the Air" and "The Princess and the Frog."
• This week's edition of Tech Support, meanwhile, focused on the Best Makeup category.
• And finally, in our second installment of Oscar Talk, Kris and Anne tried to make sense of it all.