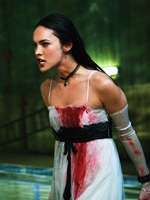 (Please note, as opposed to Kris and Guy, I tend to grade films on a 5-star scale.)
Day two of the festival is always among the busiest because the major studios are here and they want you to see their films. Movies with buzz coming out of Toronto quite often end up in the Oscar race.
"Slumdog Millionaire" exploded out of this festival last year and went all the way to eight Academy Awards.  Who would have thought coming in to Toronto that Danny Boyle's film would rock the fest? So which film will it be this year?
If Venice and Telluride can tell us anything it is that Jason Reitman's "Up in the Air" is winning critics over and should land George Clooney in the Oscar race once again for Best Actor.  Kris certainly loved the film when he saw it, and frankly, so did I.
But Clooney will not be alone here in the race for Best Actor.  One of his good friends will be right there with him: Matt Damon for his amazing work in "The Informant!." Today was one of those good days when I bounced from good film to great film back to good film, to great documentary. I may have seen the best of the fest on Friday.
Let's get into some reactions…

"The Informant!" (***)
The morning began with Steven Soderbergh's latest, which was an early morning screening in the old Cumberland Theater directly across from the star-laden Four Seasons Hotel. I greatly admire Academy Award-winning director Steven Soderbergh for maintaining a degree of independence from Hollywood, even though he makes some of his films for the same studios he seems to struggle being in business with.
"The Informant!" is an odd movie, one that Soderbergh cannot seem to decide is a comedy or a drama, or a black comedy or a farce. Certainly the over the top score from Oscar-winner Marvin Hamlisch doesn't help matters, but that said, there is a lot of good in the film. Based on the true story of corporate whistle-blower Mark Whitacre (Damon), the film traces the story from the moment the FBI comes into his life through to the end, by which time Whitacre is still stunned that some people are actually angry at him for his unbelievable (as the poster dictates) actions.
Matters are complicated (understatement) when personality flaws begin to surface in Whitacre.  I won't divulge them here but they are essential to the story. Suffice it to say Whitacre knows much more than he says, and has done much more than he lets on.
Damon is terrific, giving one of his best performances as an energetic man, jaunty almost, who cannot get a grip on what is real and what is not because he is struggling to keep his stories straight.  No mere corporate drone, he knows how to get ahead, though he cannot quite understand why the company may not want him when all this is said and done. It is a terrific piece of acting that should earn him an Oscar nod for Best Actor.
Surprisingly good as Whitacre's wife is Melanie Lynskey, who I know from her role on "Two and a Half Men" as the goofy Rose. Lynskey seems to understand her husband better than he understands himself, saying to him at one point, "Mark, are you an idiot?," no doubt voicing the concerns of the audience. No he is not, far from it, but deeply distrubed just the same.
"Jennifer's Body" (**)
Briefly — Karyn Kusama's new film is a horror effort from the pen of "Juno" scribe Diablo Cody, containing the same sort of funky cool lingo for its array of teenaged characters. This time teen pregnancy is not the issue, but a dead girl on a murderous rampage who must kill and feed to remain both alive and attractive.
The cast does some fine work, Amanda Seyfried in particular, and there are some genuinely frightening moments, but overall, there was nothing really new on the screen, nothing we had not seen before.
"Up in the Air" (****)
As Kris points out, Jason Retiman's "Juno" follow-up is superb.  Reitman might be the most exciting director coming along in American cinema. "Juno" was a kncokout but this is something greater, more mature, the work of a director in absolute control of his gifts, his words and his actors, who are obviously in synch with him.
George Clooney, as good as he was in "Michael Clayton," and he was brilliant, goes deeper here with his character, Ryan, a man who specializes in firing people for companies that "lack the balls to do it themselves." On the road for more than 250 days each year, and loving it, isolated and detached from people, no one is more surprised than he is when he connects with a woman who seems to be the female version of himself.
There is something very sad about Clooney in the film, something desperate, something that stirred my emotions more than I thought the performance would. It is as sharp a piece of acting as there has been this year and places Clooney at the forefront of the Best Actor race.  It's a brilliant performance about a man seeking his soul, and worrying that it might not be there.
And Reitman should be poised for another Oscar nomination for Best Director and Best Screenplay (along with co-writer Sheldon Turner). His film is funny, heartbreaking, sexy and topical, considering the state of the world right now and the number of people who have indeed lost their jobs over the last year. And, in its own unique way, this is a love story about a man seeking not a partner, but trying to find himself and hoping there is something left to love.
There are strong supporting performances from Jason Bateman, Vera Farmiga and Anna Kendrick (just superb), but this is Clooney's film.
"Hugh Hefner: Playboy, Activist, Rebel" (****)
This Canadian documentary about a man who built an empire spins tales of women, parties, sex in the grotto, drugs, and 24/7 guests.  These particulars may be what forged Hefner's legend, but there is a great deal more to the man. Yes he is a hedonist, but he also the man who fought for women's rights in abortion cases, among other causes.
Hefner loves women, but he also believes in women, and this film captures that sense of love very deeply. Hefner cooperated with the film's director, Brigitte Berman, claiming she understood that he was about so much more than naked women. With unprecedented access to the man, his estate and his life, Berman takes us behind the scenes of the life of a man best known for lounging in pajamas, smoking his ever present pipe, but who is about a great deal more. This could be the documentary of the year.