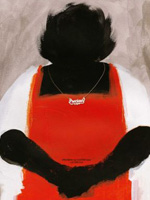 The problem with film festivals is that sometimes we critics speak too soon. Earlier today I stated that after seeing "Up in the Air," it might be the best American film of the year, and until seeing "Precious" this morning, I meant it.
Two hours later, walking out of the theater, exhausted, beaten up, stunned by the images I had just seen, yet with a kernel of hope, I realized I had just witnessed a work of art. The press, us hardened critics who can be so cynical and negative, applauded this film for several minutes as the credits rolled, but it was more than that.
Most of us grew up in stable homes with loving parents, never knowing the meaning of hunger, never having to worry about being beaten or abused either physically or verbally.  Most of us, but not all of us.
Precious (Gabourey Sidibe) does not know this world because she lives in hell. In her world, her father rapes her; she bears two children by this monster by the time she is 16 and refers to her her daughter, a Downs Syndrome baby, as Mongo, not out of cruellty, but out of ignorance. Precious is obese and illiterate, yet escapes from time to time into a fantasy world of her own where she is desirable and beloved by all who know her.
Worst of all is her home environment with an abusive, angry, horrible mother (Mo'Nique) who lashes out at the girl whenever the spirit so moves her, calling her stupid, fat and worthless, but also beating her constantly, throwing objects at her, and generally making her life a living hell. That Precious manages to rise above this nightmare and make something of her life, or at least begin too, is astonishing.
After being expelled from school, she enrolls in an alternative class where she learns to write under the watchful eyes of a teacher who cares. After the birth of another child, a son, she returns home to all out war with her vicious mother.  She finally escapes this nightmare, and, free of her mother's grip, her life begins to change and she evolves as a person, even when thrown yet another life-altering curve that should devastate her but seems to make her even more determined to be a good mother to her two children.
The film is often raw and so full of anger and pain it was difficult to watch, but the performances are simply breathtaking, as though life were happening on the screen and we were eavesdropping.  I cannot remember an American film showing life so realistically, so brutally, or so searingly honest.  Director Lee Daniels has created a masterpiece that will tower above most American films for years to come.
I cannot remember the last time I saw a film so scorchingly real, that at times I did not believe I was watching something that had been acted but rather was watching the work of a documentarian who had managed to get permission to follow this girl's descent and journey through hell.
That is not to say the film is without hope.  On the contrary, the great strength of Precious is that she makes the decision never to be like her mother and will raise and love her children as she had wanted for herself.
Much has been made of Mariah Carey's performance as the girl's social worker, and indeed, it is shocking to see Carey sans makeup, looking rather ordinary. She settles in and gives a realistic, fine performance as a woman bearing witness to the manner in which Precious was treated. After her terrible performance in "Glitter," I did not ever expect to see the pop artist back on a movie screen, but here she is, and the fact is, she's damn good.
As the abusive mother, Mo'nique is astounding, bringing to the role so much more than coiled rage and hate. This is a woman who once loved her child, but who has sunk low in the wake of an unloving husband, transferring her hatred to Precious, who was clearly (sickeningly) more "loved" by the man.
There is something quietly terrifying in her calm greeting to, "Hey Precious," when the girl arrives home with her newborn son in her arms. We know this is going to get very ugly very fast. Her behavior makes her one of the most repellant female characters ever put on screen, a monster who does not deserve to be around children…any children. It is a bold performance because the actress knows going in she is going to be reviled by the audience.  And she sells it spectacularly.
Kris has already asked why Gabourey Sidibe hasn't found herself in the Best Actress conversation so far, and I agree with his confusion.  In a brilliantly raw piece of acting, Sidibe is a revelation as Precious, and if there is any justice within the Academy, this young woman will win the Academy Award for Best Actress for what is one of the finest performances I've ever seen.
Always on guard against people, knowing that eventually she will get hurt, it is quite something in her fantasties to see the actress smile, a toothy grin that lights up her face with unabashed joy. We see that same smile when she plays with her child, and in the hospital with her baby, surrounded by people who care about her. But more often we see the pain she is forced to lived through, horrors that no teenager should have to suffer, nightmares that do not go away when the morning comes but that follow you all the day long.
This is daring filmmaking because it is real, because we all know things like this happen everyday. Let's hope the Academy is daring enough to nominate the effort and honor the artists involved.  "Precious" is the year's best film.