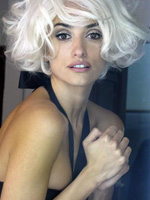 When did Penelope Cruz become such a great actress? This was a woman  I could barely stand looking at on screen not more than five years ago, yet now she is an absolute delight, with depth, emotion, and the ability to find the truth in her characters, an innate ability that is downright uncanny. God, her work in "Vanilla Sky" was painful and her performance in "Blow" was so shrill and terrible it was the sort of acting I'd label obscene.
Then saw "Volver" and was stunned by her work, blown away, knocked out and forever silenced about her talent. It is not the first time this has happened to me. I regularly attacked Julia Roberts until "Erin Brockovich" and "Closer" and was Joel Schumacher's biggest detractor until "Tigerland."  If my love of cinema has given me anything it's the ability to admit when I am wrong, or when an artist has done something that surprised me enough to admit they possess an unexpected talent.
Cruz was lovely in "Volver" and richly deserving of the Oscar nomination she received, just as she deserved to win the Academy Award for Best Supporting Actress last year for her hell cat in "Vicky Christina Barcelona."  There was something dark in her work last year for Woody Allen, something dangerous, something terribly sexy. And then to see her in "Elegy?"   It was an entirely different piece of work, equally good, but each of her 2008 performances displayed extraordinary range not seen before. Was the talent always there and the roles just weak? Or is it that Cruz simply grew as an actress?
Whatever the case, I now look forward to seeing her on screen, and her work in "Broken Embraces" (***) is again revelatory, work that should land her in the Best Actress race once again. I am not among those who fall over myself every time Pedro Almodóvar makes a film. I like his work, but I don't love it. I concede he is a gifted man, among the great directors working today, and always someone who gives us a film worth watching.
Well, he has delivered us a gem with "Broken Embraces," which is a mystery set in the world of filmmaking — sort of — with a blind writer/director, Mateo (Lluís Homar), leading a double life, brought face to face with his past and Lena (Cruz), a woman he and his producer fell in love with on a past production.  Lena gutted their worlds, tore the men apart, leaving each a wreck in her wake.
Cruz is brilliant, displaying, again, talent I didn't know was there. A vicious schemer here, she portrays something new here, bringing a freshness to the film, elevating it above an average work. I quite liked Homar's work as Mateo, who is wonderfully dignified, yet quietly frightened of what is happening to him and his life. As good as Homar is, though, the film belongs to Cruz, who dominates the work with the confidence of the great actress she has become.