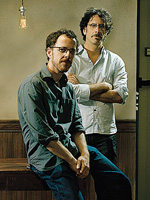 I've been chewing on the Coen brothers' "A Serious Man" like a thick piece of spiritual jerky ever since I walked out of the Clariety screening room in Beverly Hills yesterday evening.  I've retweeted other perspectives, exchanged emails with industry types equally leveled by it and, in my own way, started banging the drum for a film I think everyone should see.
It's sticking with me in the best of ways, I guess you could say.  It's illuminating unexpected corners.  It really is settling in and staying there.
So I was quick to devour this piece in The Toronto Star by Chicago Sun-Times religion columnist Cathleen Falsani.  Falsani is also the author of the book "The Dude Abides: The Gospel According to the Coen Brothers," which explores the spiritual messages found in the Coens' films.  So she was more than qualified to write up the siblings' most personal and, certainly, most spiritual film to date.
Here's a taste:
The cinematic styles, periods and themes of their films are so varied, some critics have wondered whether there is an overarching vision to the Coens' work. I would argue that it is the spirituality – the theological notions, the existential questions, and the religious ideas – of their films that, to paraphrase one of the oft-quoted lines from Lebowski (a flick so spiritually significant and influential that it literally has spawned its own religion, the 60,000-strong Church of the Latter-day Dude), really ties the room together.
That passage really hit me just right, because I'm discovering "A Serious Man" to be one of those films that casts a filmmaker's (or, in this case, filmmakers') entire portfolio in a different light.  I've never been a disciple of the Coens, and truly, the Coen films that ever landed as top-tier cinema for me were "Barton Fink," "Fargo," while I also greatly enjoyed "O Brother, Where Art Thou?"
I never latched onto "No Country for Old Men" as the milestone it was considered elsewhere.  And I certainly never worshipped at the altar of "The Big Lebowski" like so many of the annoying kids who trolled the halls of my dorm in the late summer of 1999.  And one of the most reviled Coen efforts — "The Ladykillers" — is one of my favorites.  I'm as against the grain as they come, I'm sure you've discovered.
But "A Serious Man" is serious business, and one that literally has me scrambling to re-watch the Coen canon.  The more I turn it over in my head, the more I think it could very well be their best film yet.
Read more from Falsani at The Toronto Star.