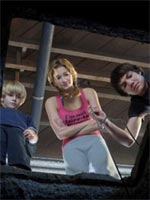 I missed yesterday's screening of Joe Dante's kiddie horror film "The Hole" — and hardly regret it, having caught Tom Ford's "A Single Man" instead — so I can offer little commentary to the news that the film has won the festival's inaugural Persol 3-D Award.
The prize, determined by judges Scott Foundas, Dave Kehr and Nadia Ranocchi, is given to the film that "best explores (the) new cinematic frontier" of 3-D.
It's a fairly obvious winner, given that it was the only official Venice selection on the nominee list, which included such formidable challengers as "Jonas Brothers: The 3D Concert Experience" and "Journey to the Center of the Earth in 3D."
Some expected "Up" to win, though another Venice award for Pixar — for a film that wasn't particularly tailored to the technology anyway — would have been overkill.
Anyway, congratulations to Dante … after reading Variety's pan of the film, some good news must be welcome.