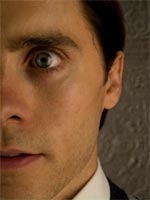 The Lido finish line beckons, as this morning saw the press screening of the final film in Competition, Tom Ford's "A Single Man."
Ford's debut (which I'll deal with in a separate Short Take) surpassed my expectations, completing a slight upswing in the standard of films on display that began with yesterday's second Surprise Film selection: Brillante Mendoza's "Lola," which proved surprising in more than just a programming sense.
Jaco van Dormael's elaborate fantasy "Mr. Nobody" never quite gelled for me — and still, none of these titles touch "White Material" — but it's been a pleasant day's viewing nonetheless.
Now the process begins of sorting the wheat from the chaff — with not a whole lot of wheat to go around, in my eyes — and playing the futile guessing-game of who will take home the gold. I'll have a post with my predictions and preferences tomorrow, but for now, the last bundle of Competition reviews:
"Mr. Nobody" (**½)
Jaco van Dormael's first film in 13 years betrays the formal rustiness and structural indiscipline that such a hiatus can cause in an artist, but there's enough unique visual artistry and demented storytelling bravery on display here to make one glad he's back.
Pitched as science-fiction, but really a whimsical, loosely motivated meditation on existence and chance, the film borrows the split-outcomes narrative device from Kieslowski's "Blind Chance" (which also inspired the 1998 rom-com "Sliding Doors") and sub-divides it several times over.
Establishing a plethora of possible lives and identities for Jared Leto's (consistently lovelorn) protagonist and shuffling through them in a manner whose logic takes a very long time to emerge — but never quite arrives at a clear emotional payoff. Part of the problem is Leto, who isn't resourceful enough an actor to drive such a conceit: that the character remains largely unchanged through these alternating destinies is surely the point, but his narrow expressive range does prove a little wearying across such a broad canvas.
Compensating visual delights abound, however: for the past and present-day sequences, van Dormael has fashioned a stylized, candy-colored domestic world that echoes the stateless nostalgia of Jean-Pierre Jeunet. The future-set segments of the film, a tad heavy on CGI, lack that level of wit and individuality; indeed, the film's energy level flags whenever we jump ahead in time. (At nearly 140 minutes, the film could use some trimming.) A bit of a folly, then, and one not entirely well-served by the cultural schizophrenia that multi-national production can bring, but a bold one nonetheless.
"Lola" (***½)
I'm a bit dazed by how Filipino auteur Brillante Mendoza has become such a ubiquitous festival fixture in such a short space of time: not six months after contentiously taking the Best Director prize at Cannes in May (his second consecutive Competition appearance there), he's already back with a new film on the Lido. Between Mendoza and Werner Herzog, the Venice surprise-film slot seems to be a workaholics-only zone.
But "Lola," an unadorned social drama that requires, but ultimately rewards, considerable patience on the viewer's part, sees the director broadening his range and earning the hype. I have yet to see his Cannes winner "Kinatay," which provoked outrage among critics for its graphic scenes of rape and dismemberment, but it's hard not to speculate whether "Lola" is an apologetic corrective of sorts to such scare-mongering.
An earnest, compassionate study of forgiveness and redemption tracing the aftermath of an everyday killing in a poverty-stricken Flipino community, the film rather originally frames its story through the perspectives of two elderly women implicated in the event: the grandmothers of the victim and the accused, respectively. ("Lola" is a local term for "grandmother.")
As the intense financial strains of a funeral and a court case weigh on both women, Mendoza constructs an incisive critique of local bureaucrats and the criminal justice system around their parallel struggles, which gradually build to a common, if compromised, resolution. It's also a devastating portrait of the challenges and occasional indignities of old age, beautifully played by its two leads, Anita Linda and Rustica Carpio. I wouldn't be surprised to see Mendoza in the winner's circle once more.