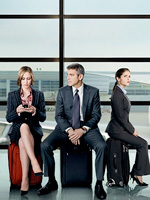 I've been keeping a steady eye on the reactions to a press screening of Jason Reitman's "Up in the Air" this morning via Twitter.  The film will play to the masses tomorrow night, but so far, it seems to be landing just right across the board.
ComingSoon's Ed Douglas noted swiftly, "Believe the Hype. This is a very special film. Loved it!"  MSN's James Rocchi, meanwhile, chimed in with, "Up in the Air: Don't believe the anti-hype. Funny, tough, real; a big step up from all involved, and a touch of The Music Man, too."
Finally HitFix's Drew McWeeny seemed almost speechless, offering, "Just out of 'Up In The Air.' Devastated. Didn't expect that emotional response at all" and "I walked ten blocks to the hotel, unable to look a single person in the eye. I am shredded."
All of that was fine and good and, to a large extent, expected.  But who would have anticipated a crotchety soul like Jeff Wells to call it the year's best film and fawn over it like so…
I've just seen the most eloquent, affecting and altogether best film of 2009…so far….This is one of the calmest and most unforced this-is-who-we-are, what-we-need and what-we're-all-afraid-of-in-the-workplace movies about adults that I've ever seen…It's a film that walks and talks it and knows it every step of the way. Work, adulthood, asking the questions that matter, compassion, family, stick-your-neck-out, etc. The whole package. With an almost profound lack of Hollywood bullshit and jerk-offery. And a kind of Brokeback Mountain-y theme at the finale — i.e., "move it or lose it."

Up In The Air doesn't tell you what to feel — it lets you feel what it is. All the best movies do that. They don't sell or pitch — they just lay it down on the Oriental carpet and say to the viewer, "We've got a good thing here, and if you agree, fine. And if you don't, go with God."
I respect the ideas put forth in some quarters that the film is in danger of drowning in hype of this magnitude, but I don't really buy into that all that much because my job isn't to manage expectations. My job is to react, and dammit if I haven't felt more excited, more elevated by a film like I have "Up in the Air" in a few years. To keep that to myself would simply be dishonest.
And regardless, I'm happy to see I'm not alone. Again, more reactions will filter through tomorrow, but this is a hell of a start.