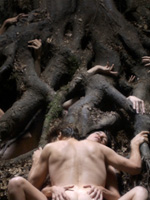 I left home at 6:30am yesterday to make an early check-in to my hotel at 8:30.  One bummer, my youngest daughter, Ariana, has a flu bug and I hate leaving Sherri with her on her own. She assured me it was cool, so I managed to get out the door without being overwhelmed with guilt. Kissed the girls goodbye, loaded the van with my luggage and laptop and was Toronto-bound.
Just over 90 minutes later (good traffic day) I pulled into the parking garage of the Delta, checked in and set my room up. I am very fussy about what the room looks like, where my stuff goes, my laptop, books and such, though within 10 minutes of the girls arriving Saturday, it all goes to hell.
From here I head to the press office to get my pass.  Navigating the Sutton Place is hellish, as it is crawling with television crews already preparing for the day's press conferences. Luckily the press office is away from the nightmare on the second floor.
There I speak with my friend Eve Goldin, who runs the Resource Library for the festival group. Great lady. I have for her two copies of my Eastwood book, one for her and one for the library, and she's delighted. With press pass and a schedule in hand, I sit down in the lobby of the posh Sutton Place Hotel and outline my next few days cross-referencing interviews with screenings to see if there are overlap.  And of course there are a few.  No matter, I'll deal with that later.
"Antichrist" (***)
At 12:15, the first film of the festival starts for me, the controversial "Antichrist" from Danish director Lars Von Trier, who I admittedly have some issues with. I struggle with his treatment of women in his films, which is abusive, plain and simple, and with the consistent self-indulgence of his work. That said, he provokes discussion with his films and this one is no exception.
"Antichrist" might be the most beautiful-looking dark film I have ever seen.  The cinematography from last year's Oscar winner Anthony Dod Mantle is simply astonishing. The film opens with a couple making love in what seems to be their washroom, with at least one shot that would get the film an "X" rating here in North America, while their child awakens in his room and climbs out of his bed. As they continue to make love, he moves through the house to an open window, and of course, this ends in a terrible tragedy. The event leaves the couple shattered, plagued with grief.
The father, nicely played by Willem Dafoe, will recover (or does he?), while the mother, superbly portrayed by Charlotte Gainsbourg, cannot get past her anger, her shame, her guilt and her loss.  They retreat to a cottage in the woods where they hope to heal one another, and all hell breaks loose.
The film is bleak, with no sense of hope, and it is filled with some of the most startling and profundly disturbing images I have witnessed in a film. No one seeing the film will be able to shake it off and though I never wish to see it again, I have not been able to think about anything else. Gainsbourg offers one of the most frightening portrayals of grief ever put on film, and though at first we may think she is losing her grip on reality, pay attention, because the film is about to take you on a journey from which you might never recover.  "Antichrist" is an alarming, dark and thoroughly haunting effort.  One has to honor the art with which it was made and the courage that went into making it.
The first day is always more of a set-up day for me than anything else, so I will be back soon with lots more. There is a strange buzz in the air and everyone is talking about Jason Reitman's latest, which I'm seeing today.  Can't wait!