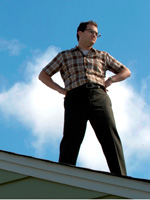 I wanted to sit down and write a full review of Joel and Ethan Coen's "A Serious Man," but structuring my thoughts around a paradigm such as that seems folly at this stage.  I need to see it again — and will certainly do so many more times — before any sort of authoritative personal take will begin to surface.  But a few things stand out that are worth conveying.
In my view, it is the finest Coen film since "Fargo" and, perhaps, since "Barton Fink."  It is without question the siblings' most personal film to date, an exploration of the "What does it all mean?" thoughts that plague each of us on a daily basis.  (The repetition of the line, "What's going on?," is by no means incidental.)
However, despite the film's heavy dosage of the particulars of the Jewish faith, it is also curiously universal.  After all, I don't know from Hashem, but the film affected me deeply, it's themes and ideas resonating from start to finish.
The film is beautifully abstract, making the impact of its thought-provoking ideas all the more profound.  It features a central performance that could seem merely capbale at first notice, but has a certain refined quality the more one considers it.  And there is a remarkable rhythm to the film, a reminder of the Coens' brilliance at orchestration and craft.
That's all I'll say for now.  "A Serious Man" is a work of art, plain and simple.  I'm smitten.