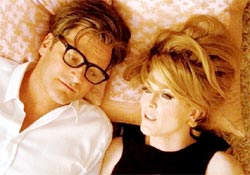 Venice Film Festival
In a curious way, revered fashion designer Tom Ford had a defined auteur's stamp before he ever so much as shot a frame of his debut film: from his louche advertising campaigns to his infamous curation of Vanity Fair's 2007 Hollywood issue to the forms and textures of his designs themselves, Ford has constructed a highly idiosyncratic brand identity fusing burnished retro cool and chilly modern eroticism.
No surprise then, that the handsome, eggshell-delicate character study "A Single Man" is very much an extension of that identity: trading in polished surfaces and swoonily aestheticized desire, the film looks on occasion like an animated GQ shoot. (And yes, Ford provides the leading man's wardrobe.)
But just as you're tempted to dismiss the film as a gorgeous vanity exercise, it reveals a keen beating heart beneath the decor — and the match of Ford's precise sensibility to Christopher Isherwood's 1964 literary examination of the effect of grief on an overly compartmentalized life begins to make perfect sense.
In a graceful, meticulous performance that easily ranks as his finest screen work to date — and merits serious awards consideration — Colin Firth plays George, a British academic living in Los Angeles who finds his life slowing to an impasse as he struggles to recover from the death of his lover Jim (Matthew Goode). As he bides his time with increasingly indifferent teaching and melancholy get-togethers with his boozy friend and neighbor Charley (a tart, affecting miniature from Julianne Moore), the film follows George through a single day, wherein a key life decision gradually veers off-course.
It's a spare, moving narrative of only-connecting, through which Ford initiates larger enquiries into sexuality, loneliness and etiquette: it's easy to read Firth's intriguingly opaque characterization as a mirror for Ford's own personal and social insecurities.
To this end, the arch visual stylization that runs rampant here feels fitting; some might cry "indulgence" or even "kitsch" over Ford and DP Eduard Grau's shimmery images of bodies in motion, not to mention intricate lighting tableaux that blush from desaturation to rosy intensity according to George's mood, but this sensual excess (alternately recalling Visconti and Wong Kar-Wai in its most beautiful moments) aptly chimes in with the heightened perspective of its character. (Nobody in their right mind, meanwhile, should have a problem with Abel Korzeniowski's exquisite score.)
I don't want to oversell the film, whose talkiness and modesty of scale will probably keep it at the bijou end of the arthouse, but it's a distinctive, deeply felt debut from someone with a clear, confident feel for the medium. Whether or not Tom Ford is actually a born filmmaker remains to be seen — I'm fascinated to see where he goes from here — but the material of "A Single Man" couldn't be more elegantly tailored to his build.