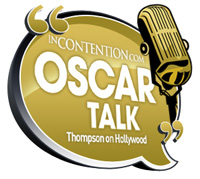 Welcome to the second installment of Oscar Talk with yours truly and indieWIRE's Anne Thompson.  We tried to set aside some time in Telluride to do one of these, but time never seemed to permit.
Anne is in Toronto this week, and, at the time of this recording (yesterday, so all "todays" and "tomorrows" should be re-purposed accordingly), was gearing up for a screening of Jon Amiel's "Creation."
We tightened things up slightly this time, clocking in at just over 25 minutes.  Here are a few of the topics we discussed:
• Which films are going to be tested by their exposure in Toronto (John's coverage begins this weekend)?
• The story out of Telluride, "Up in the Air," and the awards prospects for the film across the board.
• The dueling Best Supporting Actress hopefuls from the film, Anna Kendrick and Vera Farmiga.
• The cool reception Jane Campion's "Bright Star" is receiving in some quarters and how that could work against its major Oscar potential, despite exquisite craftwork.
• By popular demand, Anne and I disagree on something: John Hillcoat's "The Road."
• The "schizophrenic" marketing of the film, moving from genre/suspense to the love/warmth at its center.
Have a listen below.  And by the way, these should be filtering in through iTunes now, so you can subscribe to the podcast here.
[display_podcast]