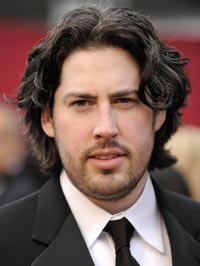 Telluride Film Festival
Four days ago, Jason Reitman finalized his latest film, "Up in the Air," by making one final song change. Two days ago he unveiled it to its first-ever first audience, his nerves shot. Today, somewhat more relaxed in the wake of a warm reception to the film, he's sitting outside at a cafe on a sunny day, the famous gondolas of Telluride swinging around and up the hillside to Mountain Village behind him as he thinks back on the experience.
"It felt really good," he says. "I've never had that short a period of time between finishing a film and it showing for the first time. I'm used to having a few weeks to get nervous, but I was really making creative choices up until the last second. It was almost surreal, it's like, 'Oh, yeah, I'm watching it with an audience.' And there's this moment when you give up the movie. It stops being yours and starts being everyone else's. It's unusual. People laugh at a certain point or they'll find something moving that you didn't expect. They start telling you what the movie was. I didn't expect that emotional experience for myself. A lot came together Saturday."
Reitman began conceiving the story of "Up in the Air" — which strays considerably from the film's source material, a 2002 Walter Kirn novel — six years ago. (Sheldon Turner, who shares screen credit on the adaptation, penned a draft early on, but Reitman came from his own place on things.)  He began turning over its themes in his head, considering them in their barest form.. "They started coalescing further a few years ago," he says, "and then, really in the year leading up to the movie, right after 'Juno,' it suddenly felt like, you know, this was a question I really needed to ask. I go through the same questions that the main character does."
In the film, George Clooney stars as career transition specialist Ryan Bingham, a hired gun terminator. It's an element of the film that skims the zeitgeist but its the personal journey of the character that Reitman wanted to dig at, notions of one's responsibility to engage with the world around you, with one's family, and the idea that no man is — or at least no man should be — an island unto himself.
For a filmmaker who has enjoyed a staggering amount of early success (he received a WGA nomination for "Thank You for Smoking" in 2006 and a Best Director Oscar nomination a year later for "Juno"), it's a thematic set that certainly steers clear of the temptations of high concept studio fare. Countless companies would love to be in business with him on, but he's already turning down comic book franchises and he's not even 32-years-old yet.
"I'm proud of the three choices I've made," he says. "When I first started directing and found some early success in the film festival world, I had the opportunity to direct bad movies, and it would have been exciting, just to be on set directing professionally. It's very tempting, but I didn't do it. I stuck to my guns and I waited to make 'Thank You for Smoking' my first movie and I'm very proud of that."
Still, the success has a the potential to put on the pressure to perform. "Juno" was a bona fide critical and audience darling that nabbed four Oscar nominations including one for Best Picture. "I thought, 'Well, whatever I do next will be a disappointment one way or another,'" he says.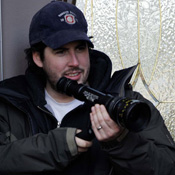 But then Reitman got busy working on "Up in the Air," the third step on a ladder of ideas he continues to explore as he wades further into the waters of maturity. "Thank You for Smoking" came just before he got married. "Juno" came just before he and his wife had their daughter. And the latest film comes at a time when Reitman is turning over the impact he is meant to have on the family he has put together.
"I realized, you know, I don't make movies for the wrong reasons," he says. "If I made movies for the wrong reasons, I'd feel more pressure. If I was obsessed with how much money this movie was going to make, I'd be scared. Because who knows? You never really know what's going to make money. 'Good' doesn't always translate to box office. But if you make movies with the idea of 'I'm going to try to make something good that is personal and follows my heart,' I think you can do that every time."
While potential pressure might be a drawback of early success, the cache that comes with it is most certainly a perk. Reitman literally wrote "Up in the Air" with actors George Clooney, Anna Kendrick, Vera Farmiga, J.K. Simmons, Jason Bateman, Danny McBride, Zach Galifianakis in mind and he secured each of them.
"That's the rare beauty of coming off of two films people seem to enjoy," he says. "One of my goals very early on was to be the kind of director actors wanted to work with. I wanted to earn a level of trust so that when I really wanted to go after a certain actor, they'd be interested in working with me. Because at the end of the day, actors make movies. Both from a fiscal point of view and a creative point of view. I feel like I'm in that rare position where there's a certain level of trust from actors going in, there's a certain level of interest in the movies that I'm going to make and that's more exciting than anything else."
Speaking specifically, Reitman says Vera Farmiga is unique for her combination of sex appeal and strength. "I'm not sure you can name any other actress who does what she does right now," he says. "She's not a 22-year-old. She's a woman. And she's a beautiful, sexy, smart woman who is not afraid to be ballsy and just give it to a guy. And she's American. I think that makes her an extremely rare commodity. I really can't name another actress who is like her, who has all these shared qualities. There's a few British and Australian actresses, but as far as the Americans go, I think she's it."
Anna Kendrick, meanwhile, leapt off the screen when Reitman saw Jeffrey Blitz's "Rocket Science" in 2007. He says the actress is "as unique a voice as you're ever going to find" and that she is "going to be one of the rare actresses who survives her 20s because of that. She will be Jodi Foster, she will be Meryl Streep, she has the opportunity to have a long career because she's smart and a great actress," he says.
Given the incredibly personal bent to Reitman's work so far, it is somewhat surprising he has yet to direct an original screenplay of his own conception. "Thank You for Smoking" was based on a book by Christopher Buckley, "Juno" was an original screenplay penned by eventual Oscar winner Diablo Cody, and now the adaptation of Kirn's novel. But Reitman almost considers "Up in the Air" to be an original screenplay because of how far it strays from the novel's narrative. He took the main character and some of the themes, but a number of key plot points, as well as Farmiga and Kendrick's characters, were not in the book.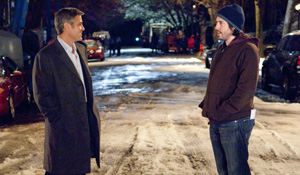 "I feel this script is a really great collaboration between Walter Kirn's mind and my heart," he says. "But I like to see something and go, 'Oh, I know how to turn that into a movie.' So the idea of just kind of coming up with something out of thin air doesn't really make sense to me.
"It's hard to imagine just sitting down to write an original screenplay. I don't get any joy out of that for whatever reason. My joy comes out of seeing something unusual that really speaks to me and realizing, 'Oh, those are the words that I'll be able to use to say what I need to say.'  I think a director is something who reacts to a screenplay, a performance, an edit, who watches something and understands how to manipulate it so it achieves its highest level of honesty and fits within the tone of the storytelling they're going for."
We're interrupted briefly by a gentleman who at first seems to be an adoring fan but actually has some kind of family tie to Reitman. "I knew you when you were this tall," he says, indicating the height of a child. He asks if Reitman's parents' home was spared in the Montecito fire earlier this year — it was — and Reitman thanks him for asking. The director has been getting a lot of general well-wishing and adoration after launching two well-received films here, however.
"That's one of the joys of Telluride," he says. "You meet people and not only get to receive compliments but you get to meet directors. I remember being here two years ago and walking up on that main street and seeing Wayne Wang hanging out on this bench. He was looking across the street and just kind of hanging out there and I came the next day and he was there again. I was like, 'Wayne, what are you doing?' And he goes, 'I like watching them,' and there was this group of teenagers just kind of hanging out with skateboards across the street and he was just fascinated by their interaction. I was just like, 'Wow, I'm watching Wayne Wang's process!' And that's what this town feels like."
"Up in the Air" will also play the Toronto International Film Festival within the week, which has Reitman doubly excited. In fact, this early September festival corridor is beginning to feel like a good-luck charm for the director.
"Toronto and Telluride are two completely different experiences and I enjoy both of them," he says. "Toronto is my home as a filmmaker and when I make movies I make them with the intention of showing the audience in the Ryserson on Saturday at 6:00 at the Toronto Film Festival. But Telluride almost feels like, I don't know, showing it to your friends and family before you head off to the circus."
And so the circus begins. From here, "Up in the Air" will go on to Toronto and into the fall toward an eventual mid-November release date. After that, the awards season seems the most likely final destination.
Please ensure your seat backs and tray tables are in their upright and locked positions.