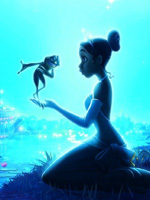 In just a few weeks here the Best Original Song picture has become clearer and clearer.  We've told you about contenders from films like "2012," "Precious," "Where the Wild Things Are" and "Up in the Air," but there's more coming.  Today: the songs of Disney's "The Princess and the Frog."
You might recall that for two years in a row, three songs from one film were nominated in this category: "Listen," "Love You I Do" and "Patience" from "Dreamgirls" in 2006 and "Happy Working Song," "So Close" and "That's How You Know" from "Enchanted" in 2007.  The Academy took action in June 0f 2008, putting a new rule into effect that limits the number of eligible songs per film to two.
This is worth keeping in mind in the case of "The Princess and the Frog," which, to the best of my knowledge, has seven songs in play.  But I'm told only two (naturally) look to get the awards campaign treatment.
The key push from the studio will be for Ne-Yo's "Never Knew I Needed."  I haven't heard the song (or seen the movie), so I can't comment on its chances or in what context it is used, but given that the film is a musical, you can bet it will be used in the context of the film and, therefore, have a leg up over tracks that play over the closing credits of films (such as the title track from "Up in the Air.")
The other song will be Dr. John's recording of"Down in New Orleans," which was written by Randy Newman and is said to be a great tune, perhaps the best of the lot.  Judgin solely by the title and artist, I imagine it's a bayou-inspired track.  This branch has shown an affinity for culturally flavored music.
So that's two more contenders on the radar.  Next up: the original music of Rob Marshall's "Nine."  (And in case you missed it, a new trailer for "The Princess and the Frog" has been released.  Check it out here.)