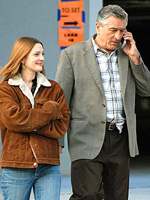 I've been meaning to post something along these lines for a few weeks now.  Around roughly this time a year ago (plus a month exactly), we pointed you early on to a potential comeback in the works for Mickey Rourke in Darren Aronofsky's "The Wrestler."  We all know how that turned out.  Now there are murmurs that Robert De Niro could be back in serious Oscar contention for the first time since…anybody?
The film is Kirk Jones's "Everybody's Fine" and it is a remake of Giuseppe Tornatore's 1990 film of the same name.  De Niro stars as a widower who realizes the only connection he has to his family was through his wife, so he sets off on an impromptu road trip to reunite with each of his grown children.
In some ways it sounds like a role similar to George Clooney's in "Up in the Air," a sudden realization that one's place in the world is very much determined by relationships with loved ones.  And it could be just the ticket for De Niro to get back into the fray.  Drew Barrymore, Kate Beckinsale and Sam Rockwell also star.
The last time De Niro was treading these waters, by the way — if you're still racking your brain on that — was a one-two comedy Golden Globe punch in 1999's "Analyze This" and 2000's "Meet the Parents."  The last time it was a serious role?  1991's "Cape Fear."  Suffice it to say, it's been a while since De Niro made the circuit's acquaintance.
I've had De Niro on my radar for a while but wanted to wait until something tangible began to bubble up to the surface.  Marcello Mastroianni originated the role, though he didn't see any awards notices.  However, along with Clive Owen in "The Boys Are Back," De Niro represents Miramax's best bet for acting awards contention.  Hopes have been pretty well dashed for "Chéri" and Michelle Pfeiffer.
Pete Hammond saw the film recently and said De Niro puts on "a master class in subtle, understated acting that just seems effortless."  High praise indeed.
Chalk it up as one more contender to the steadily unfolding 2009 awards season.