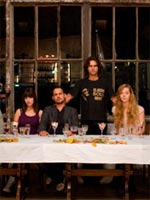 Happily, the bug that kept me down yesterday seems to have flown on the wings of Nurofen and a night's sleep, so I'm ready to face the Lido madness again.  As if sympathetic to my state, the Competition served up two relatively untaxing titles.
Festival director Marco Müller made it clear that he was experimenting with a more mainstream-friendly approach in this year's Venice programme — hence the inclusion of "Bad Lieutenant" and "Survival of the Dead," among others, in the lineup — so the overt genre leanings of Italian psycho-thriller "The Double Hour" came as no surprise, particularly given its hometown advantage. Far less expected was that heavyweight German-Turkish auteur Fatih Akin would arrive with the fluffiest Competition entry to date.
This afternoon brings a second "surprise film" in the Competition (here's hoping it's a more pleasant surprise than "My Son, My Son, What Have Ye Done?"), as well as Jaco van Dormael's "Mr. Nobody." As eagerly as I'm awaiting the latter, I might have to postpone it to tomorrow, as a producer friend of mine unveils a short film next door. Onto this morning's films …
"Soul Kitchen" (**)
Fatih Akin's candyfloss-light character comedy will come as a major shock to those familiar with the 36 year-old director via his solemn arthouse works "Head-On" and "The Edge of Heaven."
Revolving haphazardly around the romantic and professional misadventures of hapless restaurant owner Zinos (real-life restaurateur and co-writer Adam Bousdoukos) in urban Hamburg, the film runs on the food/life/love metaphors you've seen in other gastronomically-inclined films, though the broad tone and slight characterizations here put this more in line with "Mostly Martha" than "Big Night."
Still, enough flashes of Akin's observational gifts shine through to make this an attractive diversion. The film works best when it dwells on the life at the edges of the story — its most engaging scenes follow the jazzy back-and-forth of restaurant action, as the overlapping energies of dialogue, dance and a chipper soul-funk soundtrack reveal Akin's excellent feel for locale. Interest dips whenever we leave the restaurant, however, as Zinos's snowballing external problems — financial woes, an unfaithful girlfriend, a ne'er-do-well brother and a bad back — strain both credibility and sympathy, necessitating one doozy of a deus ex machina to put things right.
Taken as the mainstream trifle it is, however, "Soul Kitchen" is rarely less than endearing — though Akin himself doesn't seem altogether at ease with the film's forays into broad slapstick — and as the feckless sibling, Moritz Bleibtrau is a bright spot in the generally game ensemble. In the press notes, Akin speaks of "Soul Kitchen" as a "recovery" film after the gruelling efforts of his previous features, and I don't begrudge him his fun … or the potential for a crossover hit.
"The Double Hour" (***)
Some critics I spoke to loved Giuseppe Capotondi's spirited debut feature, an enjoyably high-strung romantic-drama-cum-horror-cum-heist-thriller-cum-romantic-drama-again that one might well have described as Shyamalan-esque before such a comparison became a derogatory one. I wasn't quite as thrilled, feeling a little cheated by a mid-section that circles in on itself to elegant but slightly inconsequential effect, but there's more individuality of style and sureness of storytelling here than in many similar genre efforts from across the Atlantic.
Carrying the film with great commitment, lovely Russian thesp Ksenia Rappoport plays Sonia, a lonely hotel maid in Turin whose speed-dating encounter with affable security guard Guido blooms into a romance that is abruptly curtailed when he is killed, and she injured, in an armed robbery at Guido's place of work. As she recovers, Sonia is plagued by trauma-induced hallucinations that intensify until the film's axis of reality shifts altogether.
The film turns on a smart, and genuinely unanticipated, wrongfooting, but like many such switchbacks, it slightly undercuts the emotional investment we have so far made in the material. Still, Capotondi is clearly a name to watch.