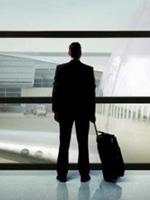 We've been getting you up to speed on the Best Original Song situation over the last couple of weeks.  After putting together a rough early look at some contenders, we revealed yesterday that Mary J. Blige would have a song in Lee Daniels's "Precious."  Today we've got the skinny on the music from one of the season's most anticipated films.
"Up in the Air," which played like gangbusters in Telluride, will have two original tracks.  The first is a title song which runs over the closing credits and, like Blige's "I See in Color," it has an interesting backstory.
After "Juno" was released in 2007, with its use of pre-existing songs and a hit soundtrack, director Jason Reitman told the first ever audience of "Up in the Air" at this weekend's fest that he began receiving tons of music from people.  One night he was approached by a man who had recently lost his job and had written a song he thought might go well with the director's latest film.
The man handed Reitman a cassette tape, the novelty of which left the director looking for a place to listen to the track.  When he finally located a player — in a friend's car — the song spoke to him and convinced him he needed to put it in the film.
It's a crude recording that wasn't glossed up for the film, which gives it a nice touch, but being that it comes midway through the credits, its chances at an Oscar nod are minimal.
However, there is another song, "Help Yourself," which I noticed played over a key moment in the film and could very well be in the thick of it.  It's a folky tune from musician Brad Smith (whose band is called Sad Brad Smith).  It recalls the work of Elliot Smith and is right up Reitman's alley.
Tomorrow we'll get into the two tracks from Disney's "The Princess and the Frog" that will get an awards push.  And I'm on the "Nine" case as we speak.