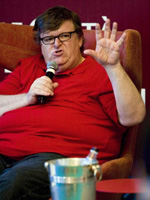 I recently had a conversation with someone about Michael Moore and why he has a dicey professional reputation, and the answer — not to put the filmmaker on the couch — was interesting.  Here's Moore, making money hand over fist yet crying out against the evils of capitalism and the greed of corporatism.  Perhaps it triggers some sort of guilt/self-loathing.
At Venice over the weekend, it seems Moore tried to address that in some way, but he might have effectively discontinued his Hollywood career in the process (though that seems to be fine by him):
In an outburst…that could spell the end of his Hollywood career, Moore turned on a roomful of executives from the film company that bankrolled his latest movie and ridiculed them as the perfect example of a capitalist corporation he criticises in his new film, before pointing out that he is now wealthy enough to make his own.

Moore, whose film Capitalism: A Love Story is in the festival's official competition, stood in front of executives from the big-budget studio Paramount and openly mocked them. "Why would these companies give money to me, a guy who is diametrically opposed to everything they stand for?" he said.
Oh wait…there's more…
"I got the sense that they [Hollywood's moneymen] don't care what I think or feel… I thought, 'why don't I make a movie that will guarantee me never getting a dime from them again?'…

"I think this is the last time they will give me that money. They are not an ideology, they are just about money. I can imagine the conversation – 'Look what he's said about us' says one man, and other says 'But look how much money he made'," he said.
Well, for your sake, Michael, I hope you don't fall on dire straights any time soon.  You've got a piece of the hand that feeds stuck in your teeth, by the way.