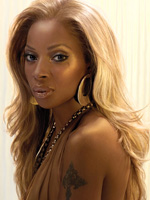 Two weeks ago we were spit-balling contenders for this year's Best Original Song category.  So far, the best bets seem to be tunes from "The Princess and the Frog," "Nine" and "Where the Wild Things Are."  There has been some movement since, however, so I thought it was a good time for an update.
In that first piece, I mentioned Mariah Carey's "100%" from Lee Daniels's "Precious: Based on the Novel 'Push' by Sapphire."  As it turns out, that song will no longer be included in the film.  Instead, a new contender has joined the fray: Mary J. Blige, whose original track "I See in Color" was included for the first time in a print of the film screened last week at Lionsgate in Santa Monica.  But it's the story behind it's inclusion that is most interesting.
I'm told Blige reacted to "Precious" quite emotionally.  What she saw on the screen hit her so close to home that she became personally invested in the film and wanted to contribute in some way.  "I See in Color," which plays during a key scene in the film (and therefore has a leg up with the music branch), is the result.
Contenders in the original song category are beginning to firm up, so we'll have more updates for you in the coming days.