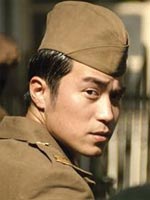 UPDATE: As I was typing this very post, reigning Oscar champ Japan announced their submission: Ryoichi Kimizuka's thriller "Nobody to Watch Over Me." Screen International has details.
PREVIOUSLY: As you know, I like to keep up with the international submissions for the Best Foreign Language Film Oscar as and when they emerge, and this morning's Screen International report on the entries from Hong Kong and Taiwan reminded me that I've missed a few.
To deal with those first, Hong Kong has selected Yonfan's "Prince of Tears," a lavish period melodrama set around the island's communist witch-hunts of the 1950s. It premiered last week at Venice to polite, if not exactly passionate, reviews — sadly, it's one title I missed — but seems to have quite strong international prospects. Said to be both romantic and visually breathtaking, it also has a gay subtext that may or may not be to the branch's taste.
Continuing the pattern of festival films that escaped me, Taiwan has gone with the rather bafflingly titled "No Puedo Vivir Sin Ti" as their candidate. A black-and-white drama about a homeless widower fighting to retain custody of his daughter (a pretty baity-sounding pitch for that foreign-language committee, if you ask me), it played at the Edinburgh Film Festival, though I never heard anyone enthusing about it.
Other countries whose submissions we haven't yet mentioned include Hungary ("Chameleon") and Morocco ("Casanegra"). Austria, reportedly still upset over Germany having snatched "The White Ribbon" from under their noses, has ignored my advice to pick Venice favorite "Lourdes," and instead selected asylum-seeker drama "For a Moment, Freedom" as their pony. For all I know, they're right to do so.
Finally, Romania has put forward the entry that, together with "The White Ribbon," has the highest profile so far: "Police, Adjective" won an Un Certain Regard prize at Cannes in May, and was named by more than one critic as the film of the festival. Here's hoping it fares better than a certain other Romanian Cannes hit.
As always, if any of our international readers have helpful info or opinions to offer, please do so.