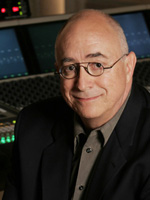 The press release, in part:
Rerecording Mixer/Sound Designer, Randy Thom will receive the Cinema Audio Society's highest accolade, the CAS Career Achievement Award, to be presented at the 46th CAS Awards on February 27th, 2010 at the Crystal Ballroom of the Millennium-Biltmore Hotel, Los Angeles.

"The Cinema Audio Society's Career Achievement Award honors the best of the best and Randy Thom's career spanning more than 30 years and over 75 films and numerous awards certainly warrants being honored," stated CAS President Edward L. Moskowitz. "He has collaborated with some of the finest producers and directors on project as varied as blockbusters, independent films, cutting edge animation, commercials and videogames. His work exemplifies the perfect integration of sound with image."

Thom has been nominated four times by the Cinema Audio Society for his work on FORREST GUMP, JUMANJI, CONTACT and CAST AWAY and took the top honor in 1995 for FORREST GUMP. He has shared in 14 nominations for Academy Awards, winning for Best Sound Editing for THE INCREDIBLES and Best Sound for THE RIGHT STUFF and nominated for: STAR WARS: EPISODE VI-RETURN OF THE JEDI, NEVER CRY WOLF, BACKDRAFT, CONTACT, CAST AWAY, THE POLAR EXPRESS and RATATOUILLE.

Thom began his career in film 30 years ago working on the film APOCALYPSE NOW and is currently the Director of Sound Design at Skywalker Sound.