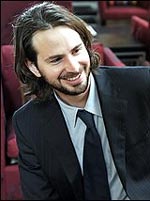 I've been promising my interview with "The Hurt Locker" writer Mark Boal for too long now, but simply haven't had a moment to — as Kate Winslet would say — gather. With a lighter load today, I'm hoping I can have it ready for tomorrow.
Meanwhile, however, I'm thrilled to report that yesterday, Boal claimed his first official award for his work on the film, taking the Venice Film Festival's relatively young Gucci Group Award.
Established in 2006, the award recognizes outstanding achievement in film by an artist from a different professional background — as you are surely aware, Boal is an accomplished journalist, whose "Hurt Locker" screenplay grew from his own experience embedded in an EOD bomb squad in Iraq.
I reported on Boal's nomination, and his competitors, here. The win places him in great company — the last two recipients were Steve McQueen and Julian Schnabel — and represents a handy bit of symmetry, considering the film bowed in Venice exactly a year ago. Congratulations to Mark … here's hoping it's the first of several citations this awards season.