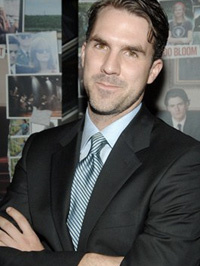 Telluride Film Festival
Paul Schneider has had a headache since he was nine years old.  Or at least, he says, that's what it feels like.  Since the rush of a film festival isn't the best environment for migraines, a corner booth in an unassuming cafe is a nice distraction for the actor.
Schneider left the North Carolina Piedmont with a degree in film editing and a role in his friend David Gordon Green's feature debut "George Washington" in the spring of 1999.  He moved to Los Angeles for what he calls "six weird months" before retreating to home base and a year living in Raleigh, and that's when things started happening.  Green's film hit the festival circuit, later became one of the most celebrated debuts of 2000 (landing on Roger Ebert's top 10 list) and put Schneider in a position to make some moves.  He picked up an agent and things started to come together.
"I thought it was sort of a fancy situation," he says, sipping coffee, looking off in the distance, thoughtfully choosing his words.  "I was farther ahead in this game than I was in the editing game.  I was still around what I liked.  I was still around this thing and I thought I'd just give it a whirl.  Even a moderate success in acting can afford you a lot of time and a lot of money to do a lot of other stuff.  But it kind of just kept on happening."
From "George Washington" Schneider starred opposite Zooey Deschanel in Green's equally respected "All the Real Girls" (which Schneider co-wrote while he and Green were in film school).  He landed roles in Cameron Crowe's "Elizabethtown," Tom Bezucha's "The Family Stone" and Andrew Dominik's "The Assassination of Jesse James by the Coward Robert Ford," but despite the indication that directors were banging down his door, Schneider makes it clear that he didn't have much autonomy, nor does he today.
"It's funny when people talk about, 'Oh you chose to work with this director, that director,'" he says.  "It's not a choice.  I read a script, I tried really hard, I auditioned multiple times and I got the role.  I'm still bucking for every job that I get.  I'm not in a situation where all these great directors are just saying, 'Here's this, do you want it?'"
It was a similar case with Jane Campion's "Bright Star."  Schneider stars in the film as Charles Armitage Brown, a friend and colleague of John Keats (played in the film by Ben Wishaw) who doesn't approve of the legendary poet's romance with Fanny Brawne (Abbie Cornish).  Schneider put together an audition tape wherein he says he just talked about his ideas for the film and the role.  But there was one speed bump in the process: Schneider would have to do a Scottish accent in the part, and he freely admits, he didn't know from Scottish accents.
So he rented a copy of Danny Boyle's "Trainspotting" and there was a monologue from Kelly MacDonald in the film that Schneider listened to over and over again.  "I did it on tape and I thought it was sort of ridiculous and I was very embarrassed," he says, but it seemed to hit Campion just right, because he landed the role.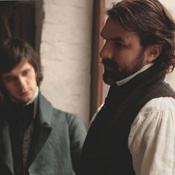 "This is a woman who's films I had admired quite a bit," Schneider says of Campion.  "These are Oscar-nominated and Oscar-winning people who are, for some reason, knocking on my door.  Every time I work with a director who has some sort of cache, I think there's some internal feelings of being awestruck, but I'm not paid to go there and be intimidated.  I'm paid to go there and say what my ideas are.  So I definitely tried to work hard and give it back."
In every situation where an actor puts his or herself in a director's hands, Schneider says you have to trust that your ideas are going to be protected and that at the beginning of any movie — or any relationship, for that matter — there is a "getting to know you" period.  "You give the person something precious and they take care of it, so they give you something precious and you take care of it," he says.  "There's an understanding of that and you move forward and do it again.
So it was trust which played an important part in Schneider's admiration of Campion on the set.  Coming off of mixed reactions to films like "Holy Smoke" and "In the Cut," it might have been easy for the director to play it safe and get back to the costume drama that she knows how to do, Schneider says.  But while "Bright Star" might resemble that on the surface, it was still quite the gamble.
"Jane is not surrounding herself with sycophants and admiring producers," Schneider says.  "She's surrounding herself with strong individuals.  Same thing with [production and costume designer] Janet Patterson.  These are artists.  These are individuals.  But at the same time, she really trusted in young people, and that's what was really interesting to me."
Indeed, cinematographer Greig Fraser was 32 when the film began production.  Music composer Mark Bradshaw, meanwhile, was 25.  And, of course, Schneider — a then 32-year-old up-and-comer who didn't know from Scottish accents (or poets, for that matter) might have been something of a risk, too.  But Schneider says he's wary of overly denigrating himself.
"My whole life there's been a little bit of this thing going on where you have more in common with the waiters at the dinner party than the guests at the dinner party," he says.  "I still have this kind of 'What am I doing here' thing going on.  I've also amended that thinking to at least allow my brain to go to a place of, 'Well wait a second, you don't always have to knock yourself.  You have a place at the table like anyone else.  You're not the best actor in the world but you're not a piece of shit either.  You're somewhere in the middle.'
"I remember getting there and had Jane been the kind of person who was insecure, then she could have made me feel like, 'What am I doing here.'  But she and Ben and especially Kerry Fox were so cool and inclusive and knew of a couple of things that I had done and it makes you feel a little bit part of the crowd."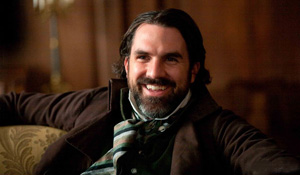 When it came to the role of Charles Armitage Brown, Schneider says he didn't research much because, frankly, there wasn't much to research.  Brown was known as a friend of Keats above all else.  Schneider read letters he wrote in which Brown talks about Keats, but he never came across anything that indicated the man as an individual.
"I read a couple of things and I gleaned what was useful, but I think if I were to ever play another historical character, I don't want to be dictated to," Schneider says.  "Because I'm not going to be him.  I'm never going to be him.  I'm not a 19th century Scottish dude who is a friend of a great poet.  I'm me."
Campion helped Schneider navigate the waters of his character, however.  They didn't have specific discussions about Brown but instead found correlative situations in Schneider's life that would help him to convey the accurate emotion, if not the accurate historical depiction.
"It was helpful for me to hear from Jane that, in her estimation, the romantics were a lot like the first punks," he says.  "These were guys who were choosing against the main stream.  They were going to make this life whether there was money involved in it or not.  And obviously, John Keats, the fact that he didn't have any money, I don't know if it cost him his life, but it certainly aided and abetted his death."
Working with a director he so admired clearly affected Schneider, who says "The Piano" was one of his favorite films for the longest period of time.  Being a filmmaker himself (2008's "Pretty Bird" made the festival rounds), he says he learned plenty watching her work.
"I think she's one of these people who's not an immovable force," he says.  "She's a constantly moving force, and I think that's her genius.  She's always rolling with the times.  She stays Jane Campion, but I think a lot of what is Jane Campion, she might keep to herself.  She adopts styles, she adopts people, she adopts trends, she adopts all these things, new ways of doing things, and she put a lot of trust in us.  But I think what she's a genius at is putting the right people together and the right social ingredients and laying back a bit.  At the beginning, Kerry [Fox] said, 'Don't worry, if she doesn't say anything to you, that means she likes it.'  It's not a squeaky wheel that needs the grease."
Schneider considers himself the kind of guy who would rather get along with everyone rather than thrive on confrontation (like "Assassination" director Andrew Dominik, for instance).  He says it puts him at ease to joke around with the crew because performing in front of friends makes him much less nervous than performing in front of complete strangers.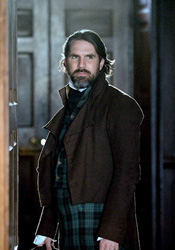 "I know other actors have other ways of doing things, they keep things to themselves, they try to stay sequestered from the crew," he says.  "I don't like that because I used to PA on 'Third Watch' and I've done a lot of crappy jobs on films.  I want to go there and make friends, hang out and have a good time.
"It's more important to me to have a good experience with co-workers, to have good collaborators, than to shoot for something that will be remembered as a piece of 'film acting for our times.'  I think when you're shooting for that you're A) going to miss and B) run the risk of being egotist."
From here "Bright Star" will play the Toronto film fest and, presumably, go off into the awards season as a formidable contender.  But don't expect Schneider to bounce to the next thing so soon.  Other than a regular gig on television's "Parks and Recreation," he doesn't have anything lined up for now.
"I've never been in a situation where things are stacked up too much for me," he says.  "Sometimes it's a little anxiety-inducing.  There's long stretches where I don't work.  I mean after I did 'Away We Go,' that was in June of last year, I didn't work until March of this year.  That's a lot of time to wonder if you chose the right thing for a living.  But on the other hand, you can't go backwards on the choices that you made either.  I don't want to go do a crappy romantic comedy that might be huge and pay you a lot of money."
As for that awestruck sensibility and feeling slightly out-of-place in a career he never planned?  Well, Schneider seems to be settling in.
"Something is changing," he says.  "I think a sense of place is starting to happen."