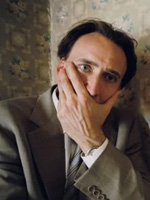 Don't get me wrong.  I'm kind of glad to know there's a lunatic out there making films.  Never a dull moment, that kind of thing.  But I want to know what happened to Werner Herzog.  What happened to the artist who gave us grand statements like "Aguirre, the Wrath of God," "Fitzcaraldo" and "Woyzeck?"  Who is this new guy?
"The Bad Lieutenant: Port of Call New Orleans" is a train wreck from the starting gun with a performance that almost captivates for two acts and soars of the rails for the last big push.  It would be embarrassing if it wasn't so oddly endearing for being so utterly brazen.  And yet it doesn't have the balls to embrace that sense of cinematic anarchy because it is, in the final analysis, a generic, inconsequential story.
Intriguingly enough, the crowd response was considerably positive.  That could have had something to do with the fact that Nicolas Cage was on hand to talk about the film, but the madness of it all clearly struck a nerve with this early morning crowd.  Color me confused.
I won't bother reviewing the film since Guy already covered that territory in Venice, but I was shaking my head throughout.  Herzog has lost his sense of refinement.  He's tapped into an addiction to embellishment late in his career that almost echoes a similar trajectory from Quentin Tarantino, but it's much more unfortunate given the tools this man has at his disposal.
I couldn't even be bothered to see tonight's other sneak preview, "My Son, My Son, What Have Ye Done?" because I was so disenchanted (plus, that one's not doing so hot, either).  I guess I'll catch up with it down the line.
Anyway, my final plea is this.  Whoever you are, tell us what you've done with Mr. Herzog.  Give him back to us.  He is sorely missed.
Here is Cage's post-screening Q&A with festival co-director Tom Luddy (there are SPOILERS):
[audio:cage-telluride.mp3]