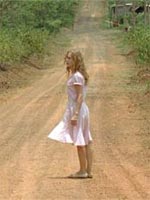 Venice Film Festival
The big deal on the Lido today was Oliver Stone rolling into town for his Hugo Chavez documentary "South of the Border" — I did my level best to catch the screening this afternoon, but demand greatly exceeded seat supply on this particular occasion. Tomorrow, perhaps.
Otherwise, the search continues at the festival for a talk-of-the-town critical hit: I had hoped that the extraordinary "White Material" might be it, but the reception so far seems to be warm rather ecstatic. Still, given the general goodwill towards Claire Denis (who has surprisingly never claimed major festival gold) and the undeniable quality of the film, it has to be regarded as one of the frontrunners.
The title that keeps resurfacing in conversation, interestingly enough, is Todd Solondz's "Life During Wartime": people really like the film, it seems, and the fact that an extra screening has been arranged for it may or may not be significant. If I were a betting man, this is where I'd place my chips. Anyway, onto some short takes of the great, the good and the befuddling.
"White Material" (****)
I've been chided elsewhere for not being direct enough in my reviews, so let's just get this out of the way: Claire Denis is one of the greatest filmmakers alive, and "White Material" is one of her greatest films.
A bruising, sensual exploration of racial and national identity, and where the twain meet, it would be a substantial work from any filmmaker at any stage in their career. But coming hot on the heels of last year's superb Venice entry "35 Shots of Rum" – a wholly contrasting work in terms of form and feeling, but no less identifiable as the director's own – one has to applaud the tireless dexterity of this 61 year-old artist.
Based upon a novel (and co-scripted) by French-Senegalese literary prodigy Marie NDiaye, the film nonetheless makes no secret of its debt to postcolonial Southern African novelist Doris Lessing, whose seminal work "The Grass is Singing" similarly probed the marriage between European femininity and the hostile African landscape. (The project reported began as a proposed adaptation of the novel for Denis and fellow Lessing enthusiast Isabelle Huppert.)
Huppert plays Maria Vial, a second-generation coffee planter of French descent in an unspecified West African country, whose life and livelihood is threatened as rebel soldiers pillage the country, reclaiming the land they feel is rightfully theirs. Everyone (her ex-husband included) implores Maria to flee to France with her increasingly disassociated teenage son, but she stands firm on the soil of her birth – with increasingly dire consequences.
Denis's film – clearly one that reflects on her own African upbringing – raises the ever-touchy debate of whether heritage is determined by blood or birthplace, devastastingly evoking the stateless desperation of belonging to a land that no longer wants you.
As an African-born viewer myself, I possibly responded more viscerally than others might, though its questions are universally searching. In any event, the film's reach is deeper and darker than mere "this land is my land" idealism, Maria's defiance turning ever more selfish and destructive as her family disintegrates around her.
The pairing of Huppert's brittle intensity with an earthier character than we're used to seeing from her works brilliantly: Huppert is incapable these days of playing victims, but her physical delicacy and emotional reserve place her more and more at odds with the landscape as the deliberate, novelistic narrative unfolds.
Denis, meanwhile, has a spine-tinglingly tactile sense of that same overwhelming landscape: working with a new DP, Yves Cape, and her wonderful regular composer Tindersticks, she adroitly layers light and sound to convey a continent whose beauty barely masks its threat; perhaps, the same might be said of this staggering film.
"Around a Small Mountain" (**)
Okay, so I spent rather a lot of time on "White Material." Mainly because I love it so, but also because the two Competition entries I saw today don't particularly demand extensive discussion. Jacques Rivette's "Around a Small Mountain" (known in some quarters by its French title "36 Vues du Pic Saint Loup") will probably take enough of a beating anyway from the critical fraternity — it prompted an unprecedented number of walkouts during this morning's screening. So I don't feel the need to rub salt in its wounds, not least because, while Rivette's latest isn't terribly good, I didn't dislike it either.
The film is a gentle, almost apologetically minor work from the 81 year-old French surrealist, clocking in at a mere 84 minutes in contrast to the gargantuan running times of his greatest work. Draping its threadbare narrative loosely around a family-run (and deeply unsuccessful) circus troupe in rural France, the film finds Rivette up to his old tricks of performance within performance, but the film finds nothing to really investigate in its cast of oddballs, and the attempts at mysticism feel half-hearted. It's an old man's folly, and quite a sweet one at that, but we're miles from the formal genius of "Celine and Julie Go Boating."
"Lebanon" (***)
An assured, abrasive debut from Israeli filmmaker Samuel Maoz, "Lebanon" represents the latest in the recent run of films seeking meaning and solace over the events of the First Lebanon War, and could benefit from the accumulated audience whose awareness has already been raised by 2007's "Beaufort" and last year's "Waltz With Bashir." Like those films, "Lebanon" looks a solid bet to emerge as Israel's foreign-language Oscar selection, though the possibility of its garnering a third straight nomination for the country is more of a stretch.
Detailing the psychological breakdown of four young tank soldiers trapped in a hostile Syrian town after an operation goes horribly awry, the film is nearly as stylized in its own way as "Bashir," barely leaving the confines of the tank to work up a sweat-inducing atmosphere of panic and claustrophobia, and filming the principals' interactions in barely-lit close-up, like some ultra-confined form of black box theater.
We never learn enough about the principals to really invest in their despair, making the film less rewarding as storytelling than as sensory study, but the significant applause at the end of the screening was testament to its no-frills power.