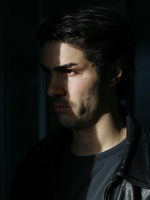 Things are winding down in Telluride.  I saw the last film I'll see here last night (Jacques Audiard's "A Prophet") and have a few things to square away before I hop the shuttle for Montrose and, finally, the flight back to Los Angeles.
The fest has been a low key delight.  An IFC-sponsored dinner Saturday night brought out a number of the principals from films on display (where I had fun throwing back a few and discussing "that moment" when you decide film will be your life with "Red Riding" producer Andrew Eaton).  Nicolas Cage was strolling the streets last night with his kid, free of the usual adoring mob.  Jason Reitman, Viggo Mortensen, Paul Schneider, Carey Mulligan, etc. have made themselves available for interviews, priming the pump for Oscar season.  Good times all around.
The big winners of the fest, from what I can gather from conversations with a number of attendees, are Michael Hoffman's "The Last Station," Todd Solondz's "Life During Wartime" and, of course, Jason Reitman's "Up in the Air," among others.  Unfortunately, I missed (again) Michael Haneke's "The White Ribbon" and a number of the once-in-a-lifetime screenings from Alexander Payne's program, but I had a full, enjoyable time regardless.  I have a few more interviews to get to today, but I thought I'd rattle off the last pair of capsule reviews before I head off into town for some meet-and-greets.
"Red Riding" (***)
I'm really not sure where Guardian critic David Thomson is coming from when, in this year's Telluride program, he states flatly, "'Red Riding' is better than 'The Godfather.'"  The declaration puts this British-produced trilogy, which originally aired on UK television earlier this year and was well-received by Guy at the time, firmly in the legendary film writer's top 10 films of all time.
If it sounds like a stretch, that's because it is.  And I think the films may have suffered a disservice by this hyperbolic appreciation.  I'm considering the trilogy as a whole for the purposes of rating/reviewing, but each was made by a different filmmaker, with different techniques, from Super 16 to 35mm to RED digital.  The Julian Jarrold-helmed "Red Riding 1974" is, for my money, the most accomplished of the lot, but the overlying saga ultimately falls a bit flat regardless due to a sense of derivation and contrivance.
Andrew Garfield is certainly aces in the first installment as a cock-sure journalist on the trail of police corruption in Yorkshire England.  Paddy Considine, meanwhile, puts forth an authentic portrayal in James Marsh's "Red Riding 1980," while Anaud Tucker's "Red Riding 1983," which pulls the story's many threads together, is somewhat forgettable from frame one.
All of that said, the effort is unique and appreciated for that.  Jarrold's film helps to elevate the trilogy's worth considerably and is creatively throughout.  And Rebecca Hall gives an awards-worthy performance opposite Garfield.  But it really is downhill (though not exactly a steep drop-off) from there.
"A Prophet" (***1/2)
Jacques Audiard's Cannes sensation "A Prophet" is likely to draw comparisons to the greatest of crime cinema — "Goodfellas," the recent "Gomorrah" — but while it may not be quite up to that level, it succeeds as a naturalistic examination of an Arab inmate's rise to power behind bars.  Similar efforts have clung to narrative above (though certainly not in spite of) character, but "A Prophet" uses character to drive the drama.
Leading the cast as Malik El Djebena is Tahar Rahim, a shock to the system with the most lived-in portrayal of the year and, in a perfect world, a shoo-in for awards consideration.  The peaks and valleys of his life in a French prison are effortlessly conveyed as if he were recounting his life story.  Meanwhile, Niels Arestrup (also seen at Telluride in Christian Carion's "Farewell"), brings a seething, unsettling air of intensity to the role of inside kingpin César Luciani.
The film features a loose (some might say labyrinthine) structure that allows it to breathe, but is nevertheless pieced together with a tension that tightens things up where necessary.  Audiard brings a gentleness to the film as well, offering artistic strokes of storytelling genius throughout that put his work near the top of the year's better offerings.  Stéphane Fontaine's soft photography, meanwhile, captures prison life in an unfussy manner, adding to the impact of the social realism on display.