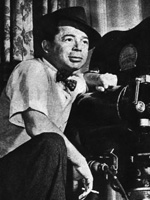 Friday I posted a piece asking whether Jason Reitman might be on track to becoming the new Billy Wilder (an idea first put forth by USA Today writer Anthony Breznican).  The notion was met with some wicked vitriol from those who felt it a silly comparison or, at the very least, too soon to discuss.
Fair enough on the latter, as I mentioned in my piece to begin with and in the ensuing discussion.  But three days later, Stephen Farber invoked Wilder's name in his Hollywood Reporter review of "Up in the Air" and compared the film's protagonist to the "corporate pimp" of Wilder's "The Apartment."  And today, in going back and forth on the idea with Breznican, he has offered a clarification but isn't backing off on his point:
"My comment is bound to provoke that sort of thing," Breznican wrote of the reaction.  "I think you got what I meant, but I probably should have been more precise. Obviously Reitman, at the start of his career, does not add up to Billy Wilder's entire output. But of course, that wasn't what I was saying. Rather, I meant Reitman is working with Wilder's toolbox, and telling the kind of stories that incomparable veteran once told.
"It's the mix of comedy and tragedy, of satire and heart, that led me to such a connection. Every generation should have someone like that; certainly Ashby was in that tradition, and Cameron Crowe too. I'm glad we've got Reitman, and I maintain 'The Apartment' and 'Up in the Air' would make a killer double-feature, separated by five decades but really not separated at all.
"It's probably unfair of me to put that burden of comparison on Reitman. If someone gives him shit, he should feel free to dismiss me. I intended it only as a compliment to someone who could be making comic-book movies, but instead has been exploring some of our darker natures with a sense of humor you could perform surgery with.
"It's cool to disagree. Unfortunately, Facebook updates and Tweets like mine don't offer much room for this kind of context, so they are easily assailed. I think this explains my thinking a bit, even though, like I said, you seemed to understand perfectly well and phrased it just fine in your own post.
"Again, this may be an unfair thing to hang on Reitman, since he's just a guy making movies and I'm the one making the grandiose comparison. If anyone gives him shit over it, he should feel free to refer to me as 'the Billy Wilder of douchebags.'"