I just realized I probably should have posted something about Pixar (and directors John Lasseter, Andrew Stanton, Brad Bird, Pete Docter and Lee Unkrich) receiving the Golden Lion for career achievement in Venice yesterday afternoon. Unfortunately, not having been present for the occasion, I can't offer much beyond that fact.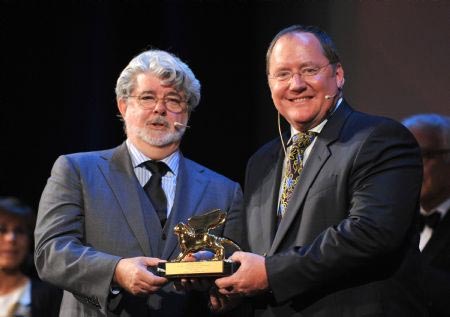 The queue for the presentation in the festival's Sala Grande, which was followed by a 3-D screening of "Toy Story 2" was a beast, so I opted to check out Steve McQueen's stunning video artwork "Giardini" at the Biennale instead. Good call. Similarly, today's Disney-Pixar panel discussion is fully booked out.
Anyway, George Lucas presented the award, and Variety offers the following extract from Lasseter's acceptance speech:
Lasseter, chief creative officer at Disney-Pixar, thanked (Venice fest director Marco) Mueller for picking the Pixar team, which he described as "a bunch of animation geeks from California."

"The thing that I am most happy about is to sit here and share this with my colleagues," he said. "I don't do this by myself."

Lasseter also tipped his hat to George Lucas, who made his first trek to Venice to hand the Pixar team the nod. "George Lucas is still part of us and we are so thankful to him," Lasseter said. "He is a true visionary."
I hardly need to offer a reminder of the studio's category-busting achievements: the fact alone that such a mammoth commercial enterprise has been embraced to this degree by a European arthouse-dominated institution like the Venice festival (in the same year they got to open Cannes, no less) is testament to the range and reach of their artistry. (It's a crossover, I would argue, that is more telling than any potential Best Picture Oscar nod.) Kudos to Pixar and Venice alike for blurring the line.