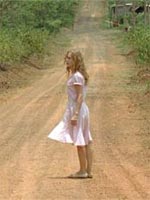 Good festival vibes are traveling through both sides of the Atlantic this weekend, it seems. Just as Kris lost his heart to a movie in Telluride yesterday, so, on this bright Venice morning, did I.
It's a beautiful thing when faith is rewarded. I had already pegged Claire Denis's "White Material" as my most anticipated film of the festival, and was duly met with an unalloyed masterpiece that outstrips its seen Competition rivals by such a wide margin it's almost a little embarrassing.
A searing study of political and personal rebellion in West Africa, led by a premier-form Isabelle Huppert as a French plantation owner obstinately clinging to her land as order and sanity crumble around her, it's plainly the strongest film in any Venice strand thus far. It also might just be the year's finest to date.
I'm still a little too shivery from its impact to write it up in any kind of analytical detail — that must wait for tomorrow. indieWIRE critic Shane Danielsen said it best in our post-screening chat: "Five minutes in, you know this couldn't be the work of anyone other than Denis … you can just feel you're in a master's hands." Meanwhile, female filmmakers continue to rock the house this year.
Given that it's a slow Sunday in terms of screenings, I'd already planned to take the afternoon off to view some of the Biennale exhibitions in Venice itself. (I'm particularly intrigued to see what artist-filmmakers Steve McQueen and Miranda July have come up with.) That turned out to be a good call — I want to linger on this stunner for a while before plunging back into the darkened theater.