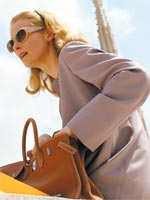 Is any other actor today building as diverse a filmography as Tilda Swinton? After serving studio time last year in the one-two shot of "Burn After Button," this year has seen hear frighten off the purple-rinsed Academy crowd that seemingly first noticed her in "Michael Clayton" with a defiant return to arthouse "difficulty" in "Julia" and "The Limits of Control."
Not content with that, it seems, she now shows off her linguistic skills with the wholly Italian-language lead in Luca Guadagnino's extravagant family melodrama "I Am Love" — handily announcing herself as the film's sole raison d'être in the first place. If the subtitles don't unnerve her newfound mainstream following, the loving close-ups of her nipples just might. Good on her.
Coincidentally enough, it's been a morning of language-flipping crossover stars, as Charlotte Gainsbourg's first post-"Antichrist" venture unspooled in the shape of Patrice Chéreau's Competition entry "Persecution," a Paris-set romantic drama that soothes the wounds inflicted upon the actress by Lars Von Trier, if not to terribly exciting effect. Short reviews after the jump.
"Persecution" (**)
I seem to be handing out a lot of ratings in the two star-territory so far, and none of them pain me more to assign than this one. Patrice Chéreau is one of the most intelligent and fluid of current French auteurs, capable of tackling lurid historical drama ("Queen Margot") and downbeat erotic realism ("Intimacy") with equal contemporary-accented gusto, but his latest — after a four-year absence — is a frustrating melange of relationship studies, both dramatically under-nourished and theoretically over-explicated.
Centred on the long-standing but permanently unsteady romance between two unhappy young Parisians (Romain Duris and Charlotte Gainsbourg), the film charts a course of near-breakups and reconciliations to reveal their fundamentally incompatible insecurities, as Gainsbourg's need for space denies Duris's equally keen need for attention. Bolstering Duris's character are a series of complicating interactions with dysfunctional friends and a smitten gay stalker, though Gainsbourg's life outside their relationship is held at greater remove.
"Persecution" begins thrillingly, with an out-of-the-blue altercation on public transport that recalls Michael Haneke's "Code Unknown" in its cool observational strangeness, and has thoughtful questions to ask about the sustainability of love amongst urbanites raised to guard emotion, but it never locates a dramatic crux in which to plug its ideas.
That the characters talk about little besides their own relationship problems hinders our ability to engage with them on any gut level; the superb actors use their well-established screen personae — Gainsbourg nervily vulnerable, Duris smolderingly, well, vulnerable — to color in assorted gaps in characterization, but can't quite mask the narrowness of the people they're embodying.
"I Am Love" (**
½)
Tilda Swinton gives a remarkable performance as an atypically warm-blooded woman in "I Am Love," crafting a portrait of middle-aged sexuality through expert details of posture, expression and vocal inflection. Midway through the film, she offers a stunning run of facial acrobatics as the extent of her newly-sprung desire dawns upon her — ranging from laughter to terror, it recalls Diane Lane's similar tour-de-force scene in 2002's "Unfaithful," with added bravery points for the fact that she's on the toilet in the process.
Unfortunately, the brilliant minutiae of Swinton's work are curiously at odds with the self-styled operatic excess of the film itself, and the two never quite see eye to eye.  Writer-director Luca Guadagnino has fashioned a beautiful throwback to heightened baroque melodrama in contemporary Milan, tracking the doomed sexual awakening of Swinton's cosseted society wife, spurred on by the romantic discoveries of her two grown children, but the narrative takes a sharp right turn into soap-opera hysterics halfway through, complete with deafening score, and the film never recovers its poise.
Happily, the film looks exquisite throughout, burnished by Yorick Le Saux's seemingly Renaissance art-inspired lensing, and showcasing Milanese scenery and cuisine (a key character is a chef) to almost unnecessarily luscious effect.  (Unfortunately, the gastro-porn agenda also results in the single unsexiest line ever spoken during a movie sex scene: "The broth must be clear.") A decidedly mixed bag, then, but Swinton's fascinating contribution alone is worth a look.
Coming up: The big guns return, as Michael Moore unveils "Capitalism: A Love Story" tonight. Forgive me, however, if I'm more intrigued by Claire Denis's "White Material," starring Isabelle Huppert, bowing tomorrow. Exciting prospects either way, then.