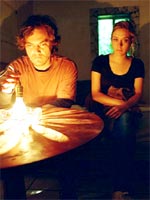 Another sweltering day on the Lido, though rainclouds are forming and things look set to break any moment now. Hopefully a change in climate will also bring about an upswing in the collective quality of films on display, as the first three days have served up a few well-liked titles, several misfires and nothing yet resembling a sensation.
At this stage, the Competition title with the most buzz appears to be Todd Solondz's "Life During Wartime," which I took a shine to yesterday — though others I spoke to seemed less enthusiastic. However, as the reviews pour in, the film looks more and more like a success: Screen International editor Mike Goodridge is a fan, while Todd McCarthy has labeled it the director's best work yet.
Bookending a morning that began with the first sighting of "The Bad Lieutenant," this evening opened the not-that-well-guarded secret of the Competition's surprise film — and, as luck (or otherwise) would have it, it turned out to be a second helping of Herzog.
"My Son, My Son, What Have Ye Done?" (*)
It feels odd, and slightly improper, to beat up on Werner Herzog twice in one day, but sadly, the David Lynch-produced "My Son, My Son" leaves me very little choice.
A flashback-riddled would-be noir/suspenser/comedy (except, well, none of those things) revolving in more-or-less real time around an apparent hostage crisis, the film calls nothing to mind so much as those agonizing "Murder, She Wrote" conclusions where involved parties step forward one at a time to explain the circumstances resulting in a crime — spun out to feature length and wrapped in a gauze of sub-Lynchian mysticism.
Michael Shannon headlines as a mentally disturbed young San Diegoan whose life revolves principally around his smothering, well-meaning mother (Grace Zabriskie), and rather less around his increasingly bewildered fiancee (Chloe Sevigny). Believing himself possessed by a higher power after cheating death on one occasion, he develops murderous inclinations — and to elaborate would be to spoil what minimal intrigue the catatonic narrative holds.
Fashioned as a contemporary Greek tragedy (with direct, leaden symbolism woven throughout to remind you of this fact — Shannon and Sevigny's characters are members of an amateur dramatic society, after all), the film nonetheless has nothing whatsoever to say about mental illness, family or America beyond the vague inclination that they're all sorta-kinda fucked up.
What Herzog is far more interested in demonstrating — as was the case with the far more coherent and infinitely more fun "The Bad Lieutenant" — is his newly adopted, highly affected zaniness, as ostriches, samurai swords and a hammily accented Udo Kier all make purposeless appearances for the sake of their own incongruity.
Shannon, meanwhile, seems to be viciously parodying his own Oscar-nominated work in "Revolutionary Road," ratcheting the crazy-truth-teller tics up to eleven with little regard for motivation, restraint or, indeed, his fellow actors. A gifted actor working wholly without any guiding sensibility here, and at perilous risk of typecasting, Shannon needs to steer clear of such material in future. As does Herzog. As do we all.
"Lourdes" (***½)
A more pleasant wild-card lay in Austrian filmmaker Jessica Hausner's "Lourdes," which I saw on the recommendation of current Edinburgh Film Festival director Hannah McGill. A smart programmer, McGill knows an arthouse discovery when she sees one, and so it is with this film, a deeply searching, dryly funny and continually surprising study of faith and scepticism in the modern world. It's easily the strongest Competition entry I've seen at this early stage.
Set in the famous, eponymous Christian commune in southern France, Hausner's film quietly examines the underlying tensions between a group of pilgrims on an organized tour to the site, in search of spiritual cleansing and, in many cases, physical healing. Nuns solemnly govern the proceedings, but when an apparent miracle befalls one of the unfortunates in their party, petty resentments and larger spiritual questioning spread through the group.
That may sound like fairly sober stuff, but Hausner's touch is both wryly subversive and unimpeachably humane, tackling massive questions about the possibility of real-life miracles without patronising the believers or chastizing the doubters. Exquisitely filmed in meticulously color-coded primary hues, "Lourdes" might turn off some viewers with its stately, ritual-obsessed opening stages, but this formal discipline opens up into a looser, gently satirical final act that offers hope minus sentimentality.
A fine film on any terms, it's also that rarest of beasts: a religious-themed story that should draw empathy from viewers on either side of the spiritual divide. With the Germans having claimed "The White Ribbon" for themselves, Austria would do well to submit this gem to the Academy.
Tomorrow: Typically for a festival weekend, Saturday serves up mainly lower-profile fare, with the exception of French veteran Patrice Chereau's "Persecution," starring Charlotte Gainsbourg and Romain Duris, leading the charge.