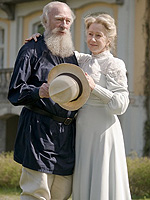 Michael Hoffman's "The Last Station," adapted from Jay Parini's novel about the last days of famed Russian author Leo Tolstoy, has been on my radar for quite some time.  There seemed to be an air of awards potential around Christopher Plummer, who stars as a dwindling Tolstoy, and Helen Mirren, as his fiery wife, Countess Sofya.
The film had its world premiere tonight here in Telluride in front of a packed audience.  The line was out the door and around the block, partly because it's opening night, partly because of the fact that Helen Mirren is on-hand (though, as it turns out, not until later tonight).  But those hoping to hear a nice chat with the actress after the film weren't disappointed for long:  Hoffman had Vladimir Tolstoy in tow, overseer of the Tolstoy estate, and a number of other Tolstoy family members as well.
But first, the film.  It's a delightful effort with bright comedic spots throughout, but it's also thematically resilient in its depiction of a relationship, 48 years on, nearly torn apart by diverging philosophies on religion, property, etc.  It's a touching exploration of love in its many forms.  "Yes, love is hard," Hoffman said after the screening.  "You want to do what you need to do, they want to do what they need to do, but I don't know what else to do."
Christopher Plummer is serviceable as Tolstoy.  It's not the baiting performance you might expect and I rather liked it for that.  Helen Mirren — who seems to get more and more beautiful with age — is wild and, at times, gut-wrenching as a woman clearly in love with her husband but terrified of the endowment he may deny his family by signing his life's work into the public domain (at the encouragement of a dedicated disciple capably performed by Paul Giamatti).
James McAvoy offers the film's great performance.  He benefits from having the most complex arc, but he takes his Valentin Bulgakov — a devoted Tolstoyan who learns nuance in the doctrine where others see rigid discipline — on a touching journey of love, commitment, anxiety and passion.
The Tolstoy clan came to the mic for a brief Q&A session with the audience after the film.  Along with Vladimir (Tolstoy's great-grandson) was his niece, Sophya, s0 named for Mirren's Countess.  There are plans to show the film in Russia, when the Tolstoy family convenes for an annual family reunion.
One thing that struck me early on was the choice to film "The Last Station" in English, probably expected but, given the subject matter, a bit disorienting.  But I liked what Vladimir had to say to that, as it was brought up by an audience member.  "I think it's better that it is in English," he said, his daughter translating, "because that makes it more universal, and Leo Tolstoy's work was meant for all of mankind."
It might sound contrived, but it fits snugly in with the film's themes of immortalizing one's art and being responsible with your legacy.  But considering some 250 descendants attend that Tolstoy family reunion every year, it becomes clear that Tolstoy's legacy isn't merely on the page.
"The Last Station" hasn't secured domestic distribution yet, but I imagine it won't have a hard time finding a buyer somewhere down the line.