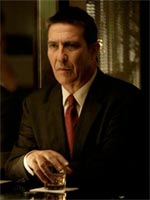 Sorry to duck out there for the whole morning — a combination of wireless misbehavior and delayed screenings has played havoc with my planned writing time. As a festival, Venice has multiple charms, but smooth organization is not among them.
This morning's glitch-bedeviled  screening of Todd Solondz's "Life During Wartime" is a case in point: after starting 20 minutes late (leaving journalists waiting outside in sunstroke-inducing heat), the projector broke down during the opening credits. A second quarter-hour delay followed,  only for the film to restart with severely mistimed Italian subtitles — the vocal protests from Italian audience members drowning out the dialogue in the film's opening scenes. Oh, well.
Anyway, enough kvetching and on to the movies.
Kris will have a more detailed take on "The Road" (**1/2) up later today, but given that it's one of the Lido's biggest drawcards, I feel it necessary to take a moment to discuss the film, which seems to have left several journalists I've spoken to disappointed, or at least mildly befuddled — and with good reason.
The film is by no means an embarrassment, and certainly puts the lie to the belief expressed by many that Cormac McCarthy's Pulitzer Prize-winning novel was "unfilmable." John Hillcoat and his team have indeed fashioned cinema out of McCarthy's ravished American landscape and sparse familial romance (Hillcoat and Viggo Mortensen both branded the film "a love story" in this afternoon's press conference), and have done so without making significant detours from the narrative course of the novel. (Fears provoked by the trailer that genre elements had been played up are largely unfounded.)
But where McCarthy's prose made a virtue of its languor, snowballing urgency and desperation from its day-to-day slog, Hillcoat's film plays weirdly disjointed and repetitive, as emotional beats (principally fear versus trust) recur without variation in nuance or context — losing the taut sense of continuity in McCarthy's mammoth journey. Mortensen is as empathetic and physically committed to the material as you'd expect; regrettably, he lacks a sufficiently strong scene partner in young Kodi Smit-McPhee, whose subtler gestural details are too often outweighed by shrill emoting.
This morning, however, unveiled a surprising lateral companion piece to "The Road," in the shape of Todd Solondz's "Life During Wartime"  (***). Needless to say, the films bear little to no narrative or stylistic resemblance to each other, but I was struck by their mutual concern with the shifting presence of father figures in an America burdened with the remnants of trauma. If that sounds like a reach, such are the connections that the concentrated viewing atmosphere of festivals can reveal.
As it turns out, the publicity tease of a sequel to Solondz's 1998 indie darling "Happiness" weren't entirely off the mark — we are indeed back with the three Jordan sisters, whose collective social and sexual dysfunctions formed the spine of that film, though they are incarnated here by different actors, with pointed shifts in their respective characterizations.
As Solondz himself said in the press conference, the film is better viewed as a reflection of his own changed perceptions of these people after 10 years than as a direct narrative follow-up. However you choose to see it, it stands as his most approachable, humane work since "Happiness," a loose, jangly ensemble piece that coolly examines the after-effects of social and sexual dysfunction — "forgiving and forgetting" is the most repeated theme — as opposed to the head-on confrontation of the earlier film.
All of which is not to say that Solondz has tempered his instinct for pitch-black comedy of discomfort: the film's key narrative strand centers on a pre-teen boy's growing homosexual panic as he learns his estranged father — a brilliantly restrained character turn from Ciaran  Hinds — is a paedophile, while the film's every interaction is predicated on a social taboo of some sort, a little like the world's most inappropriate sitcom.
Solondz's über-mannered writing and storytelling style will likely aggravate many audiences — the film runs on a motif of intricate mealtime conversations — and there are a few superfluous or silly diversions here. (Ally Sheedy's over-zested cameo as neurotic writer sister Helen seems to have been beamed in from another movie altogether.)
But there's warmth and truth amidst the shock-raking, together with incisive lensing from Ed Lachman and intelligent ensemble work across the board. Charlotte Rampling, in particular, is glassily devastating as a society woman whose sole emotional demands have boiled down to trysts with men who are "alone and not gay."
Compared to such decidedly bleak efforts, the spirit of artistic celebration in Angela Ismailos's documentary "Great Directors" (***) came as something of a relief. The film delivers exactly what the title promises — a series of conversations with premier contemporary filmmakers from Todd Haynes to Bernardo Bertolucci to David Lynch, employing thematic, rather than historical, links between their work to illuminating effect.
One learns an awful lot from the way a director talks about their work, or doesn't, for that matter: where a Lynch evidently prefers to let his films speak for themselves, others are far more eager to supply interpretations for their own oeuvre.  In the press conference, Ismailos explained that she aimed to use even the most reticent filmmakers' conversations as a way the communicate the artist's anxiety, which she does rather effectively — though for those who simply like to revel in enthusiastic movie-talk, there's plenty of that too.
It's obviously a must-watch for a fan of any of the directors involved, and I sense it may find a larger, receptive audience on the small screen. Ismailos floated the possibility of making further volumes with different filmmakers: on the evidence of this, it'd be a valuable series.