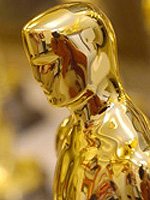 Over at Movie City News, David Poland has amassed the fifth annual Gurus o' Gold prognosticating collective (including yours truly once again) and asked for a list of 15 films with the brightest pre-Toronto Best Picture profile.  We also were asked to indicate dark horse underdog actors and actresses, which yielded some interesting results (though some of them shouldn't really count as "dark horses").
The Best Picture chart includes 34 titles (the top 10 republished after the jump) and represents the wild blind stab you'd expect at this point.
I find myself surprised "Bright Star" is still being considered a formidable contender, but it's firmly in the top 10.  So is "Precious," proving out a personal months-old intuition (though nothing's assured at this point, of course).
"The Road," "Amelia" and "Capitalism: A Love Story" are the bubble contenders.  "District 9" and "Star Trek" also have decent showings.
Despite my feelings on "Bright Star," I was happy to see the LA Times' Mark Olsen point attention to Paul Schneider's performance in the film, while Susan Wloszcyna is the only one joining me in banging the drum for "Precious" star Gabourey Sidibe.
Pete Hammond pulls an out-of-the-blue pick in Catalina Saavedra for "The Maid" (confession: news to me), and where there's smoke there's generally fire with Pete.  And it's nice to see Sharlto Copley and Jeremy Renner leading the way for the dark horse actors.
It's all fun conjecture for another few weeks, but this is a solid cross-section.  The top 10 predicted Best Picture nominees from the Gurus o' Gold: