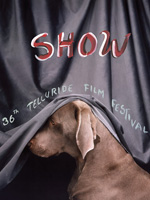 Tomorrow morning I'm on a plane at 10:30 to the mountains of Colorado and the 36th annual Telluride Film Festival.
This will be my first trek to the fest, which has always been, by many accounts, the most coveted detour of the fall festival season.  They keep it small.  The vibe is meant to be intimate, definitely an antidote to Cannes or Toronto, where the media frenzy stretches on for a week and a half.  Here we get four days in the refreshing thin air, and there are a number of films I'm looking forward to.
The line-up used to be a tightly guarded secret.  It was a leap of faith.  You land, get the schedule, and then you know.  But news travels fast in a town like this, so more and more, the secrecy of Telluride's schedule has leaked out over the years.  This year is no different on that front.
"Up in the Air" from director Jason Reitman is way at the top of my list.  Something about the project is tugging at me, and that USA Today interview with the director yesterday did a lot to fan the flames.  Reitman had great success with "Juno" when he took it to Telluride in 2007, so he'll be looking to duplicate that again as Paramount primes its Oscar pony.
Next up is "The Road," which I've already seen (review on the way).  That will serve as a nice centerpiece for a Viggo Mortensen tribute scheduled for this year's fest.  The actor will arrive fresh from Venice over the weekend.
"The White Ribbon" is another hotly anticipated film, from director Michael Haneke.  It took the top prize at this year's Cannes fest and could continue to shake up the festival scene.  Also screening from the Sony Classics stable will be "Coco Before Chanel," "An Education" and "A Prophet."
Werner Herzog will be on-hand with "Bad Lieutenant: Port of Call New Orleans," a fascinating project from the moment it was announced.  Elsewhere, "Bright Star," which I've already seen, will be looking to carry the Cannes love across the Atlantic, while Todd Solondz will debut "Life During Wartime," his first feature in five years.
And of course, Alexander Payne, the fest's guest director, will be around for a series of personally selected films that will no doubt be enticing.
Maybe there are a few surprises left in store, I don't know.  But I'm looking forward to taking in what I can as we push into the season.  And the cross-postings from Guy and myself should make this a nice one-stop festival shop for the next week or so.  Then it's all about Toronto.