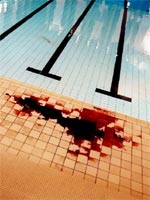 I don't follow the world of genre-specific awards ceremonies very closely, so I must admit I'd never heard of the Scream Awards before their recent slate of nominations was brought to my attention.
No prizes for guessing from the name that it's a horror-focused affair — with separate divisions for fantasy and sci-fi as well. Fan-voted and cheerfully silly, it looks at first glance to follow in the noble tradition of the MTV Movie Awards knockoff, with such prestigious categories as "Most Memorable Mutilation" and "Holy Shit! Scene of the Year." (Meanwhile, one of the more serious categories is saddled with the moniker "Best Scream-Play." That's good stuff.)
But get past such tongue-in-cheek frivolities — and the predictable spate of nominations for the likes of "Twilight" and "Transformers 2" — and there are some pretty cool selections scattered here and there. It's heartening to see such a healthy showing for "Let the Right One In" in a people's-choice institution like this — though not as surprising as the inclusion of Norwegian Nazi-zombie-comedy (there's a mouthful) "Dead Snow."
Edging a little closer to the mainstream, we find recognition for the critically rubber-stamped likes of "Coraline," "Up" and "Star Trek." ("District 9" presumably missed the cut-off date — I imagine it'd be all over the list otherwise.) With Duncan Jones's "Moon" also representing for the indie sector, it's a list that represents an unusual convergence of fanboy enthusiasm and critical consensus … all of which goes to show what a watershed year it's been for fantasy and sci-fi cinema.
A list of their top film categories below — though the highly specific, and occasionally batshit-crazy, performance categories are worth a look for the sake of interest. I mean, where else are you going to find awards love for Shirley Manson and Will.I.Am? (Meanwhile, you sort of have to love a category that lumps together Ed Asner, Hugh Jackman, Robert Pattinson and — in the lone nod for Oscar's favorite fantasy "Benjamin Button" — Brad Pitt.) Check out the full list here.
THE ULTIMATE SCREAM (their Best Picture equivalent, I presume)
"Drag Me to Hell"
"Let the Right One In"
"Star Trek"
"Transformers: Revenge of the Fallen"
"Twilight"
"Up"
BEST HORROR MOVIE
"Dead Snow"
"Drag Me to Hell"
"Friday the 13th"
"Let the Right One In"
"My Bloody Valentine 3-D"
"Splinter"
BEST SCIENCE FICTION MOVIE
"Knowing"
"Moon"
"Outlander"
"Star Trek"
"Terminator Salavation"
"Transformers: Revenge of the Fallen"
BEST FANTASY MOVIE
"Coraline"
"Harry Potter and the Half-Blood Prince"
"Twilight"
"Up"
"Watchmen"
"X-Men Origins: Wolverine"