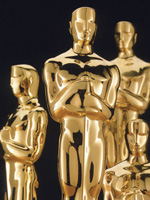 I've been having a number of conversations today about the Academy's new Best Picture voting rules.  Some see it as further evidence of the organization snuffing out campaigning by leveling the playing field even more (which, if we're being honest, is bad for AMPAS business).  Others see it as the fairest way of establishing a winner.  I'm somewhere in the middle, but all of that is neither here nor there.  I ran across this comment at The Hot Blog and I just had to share:
They need to treat the nominees as a top 10 list and not "nominees." Then, structure the broadcast around the top 10 like American Idol and gradually count down the vote tabs from #10 to #1 throughout the program to create suspense.
Call me crazy, but this would be brilliant.  I kind of understand the desire to spare the feelings of those who would be "voted off" first.  That's why the tabulations are destroyed after a few years.  No one wants people to know they were in last place, but come on — the nomination is the victory in many of those circumstances.  And talk about building a viewership.  We're already inching toward People's Choice Awards territory as it is, so why not bring all the walls down?
Thoughts?