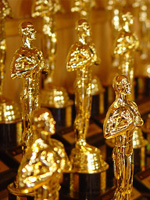 Back on June 29, in response to the Academy's move to 10 Best Picture nominees, I wrote, "I imagine something will have to be done to address the concern that now one merely needs something like 600 people on board to get a film in the line-up.  How many members do you think these blockbuster films, which keep studios in business, employee?  Block voting will surely thrive."
Two months later, it seems the Academy has taken steps to address the issue.  Sort of.
As Steve Pond reports, in a nutshell, and in order to steer clear of "mathematical dangers," as AMPAS executive director Bruce Davis puts it, the Best Picture winner in this new paradigm will be determined by the same preferential voting system which yields the nominees.  Members will be asked to rank the 10 films in order of preference.  The thinking is that this will effectively stifle block voting to bully forth a winner, seeing as it would have only taken roughly 1,000 votes to win the big prize otherwise.  And any awards consultant will tell you those are easy numbers to come by.
That's all fine and good, but it doesn't address the issue of nominees.  It will still only take 10% plus one (more or less 600 votes, even fewer if you consider the fact that there are a good many voters who don't participate) choosing a film as the year's best to get a nomination — numbers that are even easier to come by.  Right?  If I'm being honest, I'm confusing myself further the more I write.  I'll just offer up Pond's reduction, after the jump.
Initially, [PricewaterhouseCoopers] will separate the ballots into 10 stacks, based on the top choice on each voter's ballot. If one nominee has more than 50 percent of the vote (unlikely, but conceivable some years), we have a winner.

But if no film has a majority, then the film ranked first on the fewest number of ballots will be eliminated.  Its ballots will then be redistributed into the remaining piles, based on whichever film is ranked second on those ballots.

If those second-place votes are enough to push one of the other nominees over the 50 percent threshold, the count ends. If not, the smallest of the nine remaining piles is likewise redistributed. Then the smallest of the eight piles, then the smallest of the seven…

Eventually, one film will wind up with more than 50 percent.

The process is designed to discern a true consensus and uncover, in Davis' words, "the picture that has the most support from the entire membership."
I like the overall move because it indeed levels the playing field, allowing for the most agreed-upon film to deservedly take the top prize.
Read the rest at The Wrap.