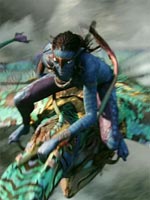 Earlier this month, I wrote a piece detailing my wariness about the current 3D vogue amid the various claims being made that it will alter life (or at least cinema, which for many of us is the same thing) as we know it.
Now, with "Avatar" Day having stoked anticipation for James Cameron's purportedly "game-changing" film in some quarters — and significantly dampened it in others — the debate about the technology's value carries on.  I expect the film's run-up and eventual release will provide plenty more occasion for alternately sceptical and enraptured opinion pieces about the trend.
I'm still in no position to comment about the potential (or otherwise) of "Avatar" — even if I had wanted to attend "Avatar" Day, given that I was in a tent in rural Wales at the time, the opportunity escaped me. I subsequently watched the trailer online, only to be informed (perhaps a little defensively) by others that the images only really popped in 3D.
Leaving aside my automatic mental response that a film has to impress in any format, the argument about imagery was neither here nor there — as my principal concerns with the project still lie very much at the level of story, and the trailer (admittedly only a teaser) did little to either illuminate or assuage them. So I remain guardedly at square one, which is roughly where The Independent's Tim Walker is too.
Like me, Walker is unpersuaded that 3D can be of more value to the artform than skilled writing and storytelling, and fears that it could become a crutch for films lacking in the latter departments. After attending "Avatar" Day, meanwhile, he's worried that we could be in for just such a film:
In 3D, at the vast BFI IMAX cinema, the footage certainly looked more spectacular than the flat, two-minute trailer that's online now. Some of the visuals are breathtaking, and I dare say Avatar is less likely to disappoint fans than The Phantom Menace, for example. That said, the plot looks more Titanic than Terminator. In fact, it looks like Aliens-meets-Born on the Fourth of July-meets-Ferngully: The Last Rainforest.

3D is a revolution that the film industry has wrongly predicted before. I can't see it improving other genres, like romcoms or ensemble dramas. I can, on the other hand, see it becoming another way for Hollywood to polish turd-like scripts. It won't stop people staying home to download pirated films; and asking audiences to pay extra for the loan of a pair of plastic glasses isn't entirely on.
All of which reads very similarly to my own argument, so obviously I found myself nodding along as I read. More surprising to me, however, was this Guardian counter-argument in praise of 3D, in which art critic Jonathan Jones likens the potential impact of the technology to key developments in Renaissance art:
In the 15th century, artists discovered how to paint bodies and landscapes as if they had depth and solidity. Painting triumphed over the flat surface to create the illusion of a real scene glimpsed through the square enclosure of the wooden panel or canvas, as if you were watching a play on a stage.

The effect was just as dazzling, just as unexpected as 3D cinema – and it has lasted a lot longer than the gimmicks of 1950s science fiction … I think we're right to be excited by three-dimensional technology; the thrill of seeing deep space on screen is not unlike the thrill of peering into one of Leonardo da Vinci's paintings.
I do see his point, and it's an interesting one. It does, however, still point up the fact that the technology need only be selectively — and, through history, sporadically — applied. Just as there have existed any number of post-Renaissance art movements which had little use for such verisimilitude, there will always be branches of cinema which don't stand to gain anything from the expense and complication of 3D.