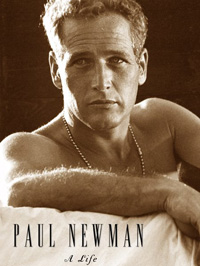 So much of my life is spent in the dark watching flickering images on a screen. Not that I am complaining; it is a life I wouldn't trade for the world, but I do enjoy being outdoors. My wife, my two daughters and I live 50 miles outside of Toronto in a small country village called Seagrave in a century home. With about an acre of property, we have a large deck and a swimming pool for the girls. I hear friends talk about moving or buying a new home, but we will die here. Never will this house be sold as long as I am alive, and the plan is to allow the girls to have it, share it as a summer home when Sherri and I are gone.
We spend a lot of time on the deck reading. Sherri, the classics and latest best sellers, me, all things cinema. Once in a while I will read a book that is highly praised or recommended to me by one of my girls — "The Lovely Bones" was the last one, I think, and a superb biography of John Adams — but for the most part all I read are books about cinema.
Biographies tend to be the ones I read most, though I am becoming much more difficult to please when reading a biography of an actor or a director. I like explorations of genre and have in the past enjoyed collections of criticisms, the best being those by Pauline Kael, Roger Ebert, Kenneth Turan and John Simon.  This summer, as I am working at home on my own next three books, I had the chance to do quite a bit of reading, and I thought I would share some of the better ones with you today.
The best book I read last year (and have picked up from time to time over the summer) was the superb biography "Victor Fleming: An American Master" by Michael Sragrow, which quite superbly explores the little known career of the man who directed "Gone with the Wind" and "The Wizard of Oz."  Loved by actors, admired by producers, and well thought of by critics of the time, Fleming is perhaps the least known of the directors of the Golden Age. This was one of those books I loved because I was learning something throughout, which to me is the best kind of book to read.
"Paul Newman: A Life" by Shawn Levy is a thorough, highly entertaining book that paints perhaps the most authentic and honest portrait of the Newman clan I have ever encountered. Everything is laid bare here, the infidelity of Newman, the death of his son, the career disappointments and triumphs, and of course, that long painful march towards death. In a book such as this, with such a well known public figure, one hopes that they know more about the subject after reading the work than they did when they started, and I certainly did about Newman. The only disappointment perhaps was that, despite many attempts to involve the Newman family, Levy finally wrote the book without any interviews with them at all.
When the bibliography is two out of print books, not a single magazine or newspaper article is mentioned, you know you are in trouble, and the biography "Meryl Streep: A Life in Film" by Iain Johnstone is just dreadful. Dull, uninteresting, with what looks like press kit information re-written and tossed together, the book is an insult to the greatest actress of all time. Streep was interviewed by the author during a press junket several years ago, but not for the book, nor were any of her close friends or colleagues spoken with for the book. It is a series of quickie tales about each of her films, telling anyone who knows anything about cinema what we already know.  Just a mess, and leaving us hoping for the definitive Streep book to come.
I quite liked "Kazan on Directing," a magnificent book which brings together all of Elia Kazan's notes for the films and plays he directed from the 1940s through the 1970s. What an extraordinary mind this man had! Reading his notes for "Death of a Salesman," one begins to see that Arthur Miller might have written the play for himself, but it rang true of so many father-sons stories. I loved the many Brando stories, and Kazan's admission that the actor did not really need a director when he was in the zone, just a word or two of what was expected of him. Best of all were the notes on "A Face in the Crowd" and "The Last Tycoon" because so little has been written about them. Say what you will about Kazan and his politics, the man knew the art of acting and knew how to bring greatness and realism from his actors.
The Wallflower Press has a fine series of books about various directors, many of them giving me great enjoyment this summer. Best of all were "The Cinema of Steven Spielberg," "The Cinema of Ang Lee," "The Cinema of David Cronenberg" and "The Cinema of Terence Malick," all insightful, well-written studies of these artists and their bodies of work. Sitting on my shelf waiting for me is "The Cinema of John Carpenter," "The Cinema of Roman Polanski," and "The Cinema of Werner Herzog" (next on the list!!).
Equally fine was "David Lynch: Beautiful Dark," written by Greg Olson, and by far the finest work I have yet read about the mysterious and bizarre Lynch. The stories of the "Blue Velvet" and "Wild at Heart" shoots were a great read, while "The Straight Story" filled me with immense sadness, yet a smile for actor Richard Farnsworth. The Dennis Hopper tales were often hystercially funny, especially when Hopper told Lynch he had to play Frank Booth in "Blue Velvet" because, as he stated, "I am Frank Booth."
And of course, interested in reading something I have read before for the pure enjoyment of it, I grabbed Peter Biskind's superb "Easy Riders Raging Bulls" and "Dirty Little Pictures," which I consider to be two of the finest books ever written about cinema. Cannot wait for his Warren Beatty biography, due in January.