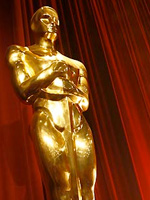 The summer season is winding down, the festival season is gearing up, and within the month, we'll be neck-deep in Oscar chatter that won't let up for roughly 200 days.  It's what you come to the site to read, so here's what you can expect.
First, a new feature at In Contention.  Later today I'll be posting the first installment of Oscar Talk, what will eventually be a weekly podcast discussion between yours truly and indieWIRE's Anne Thompson.  Today Anne and I will offer up a festival preview among other things, and we'll try to do another one from Telluride, but we won't pick it up weekly (and consistently) until September 25, after the madness of Venice, Telluride and Toronto has calmed down.  I'm really excited as this is something the two of us have considered for a while now, just a weekly discussion of movie and awards news from two of us in the trenches — hopefully we won't bore you.  Watch (er, listen) for that on Fridays.
Our festival coverage is taking a bit of a quantum leap this year.  We'll be taking on Venice and Telluride for the first time as Guy heads down to Italy for the former on September 1 and I hustle up to the Colorado mountains for the latter on September 4.  John will once again cover Toronto for us beginning September 10 and Guy will handle the 53rd BFI London Film Festival beginning October 14.  I will also be covering the AFI and Santa Barbara fests here in Southern California once again.
Gerard's Tech Support coverage started a bit earlier this year as we wanted to have two stabs at each category's analysis.  Three years of the column has taught us that they can be outdated by the time the season gets into full swing, so Gerard will be launching his second wave of category coverage Thursday, September 24.  I will be joining him on that feature this year for most of the Tech Support interviews you'll read throughout the season, plus a few bonus columns on this or that particular of the crafts category races.
Guy will launch his first weekly (as of yet untitled) column on Wednesday, September 23.  It will be Oscar-focused, offering up Guy's across-the-pond thoughts on the race as it unfolds as a counter-balance to my more industry-specific ponderings in the Monday Off the Carpet columns.  I know Guy is excited to cut loose on that front and I'm sure it'll be a nice antidote to the insider talk that can weigh things down around here this time of year.
And, of course, the Monday Off the Carpet musings will be back for another go at another season.  The last of the monthly updates will drop on Monday, then, after the big fests come and go, I'll pick it up weekly beginning Monday, September 21.  The Web Round-ups should revert to the usual Oscarweb Round-ups around this time as well, spotlighting mostly awards-centric pieces from across the net.
All in all, it should be a busy season.  We hope you enjoy reading, as ever, and look forward to bringing you comprehensive coverage of every nook and cranny of the race.