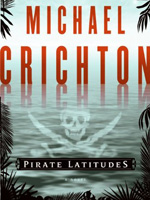 I've been of the mind for quite some time now that a good (operative word) pirate film is way overdue.  The "Pirates of the Caribbean" films are fine and all, the first one especially.  Blending the mythos of a pirate story with that of, essentially, a ghost yarn was a brilliant way to make the oeuvre more palatable to audiences.
Because let's face it, the reason these films aren't made today is two-fold: audiences see it as passe and they aren't cheap to produce.  It's the same unfortunate circumstance with westerns.
For me, however, the fantasy of Disney's franchise isn't enough.  I want more, and I want something tangible.  High seas adventures in general, not just pirate tales, can really sing on the big screen.  Peter Weir's "Master and Commander: The Far Side of the World" is a perfect example, a brilliant, somewhat forgotten film that is sincere and compelling throughout.
So the news that Steven Spielberg is going back to the Michael Crichton well (as conveyed in today's round-up) for "Pirate Latitudes" is exciting indeed, despite the presence of David Koepp.  Then again, the only Koepp-scripted films that have ever been any good are those directed by Spielberg, so perhaps it'll balance out.  I just hope this kick-starts an interest in the genre.
At the end of the day, if I owe that to Disney's shenanigans, so be it.  And perhaps the studio will do the same for the western when the more action-oriented "The Lone Ranger" finally makes its way to screens.  But, like I said, I want more.
In a nutshell, I'm ready to see a pirate film taken seriously as a prestige, even awards pic along the lines of, say, "Gladiator."  Spielberg's film looks to be an entertainment thing, but sooner or later, it'd be nice to something akin to Weir's work.  Just sayin'.