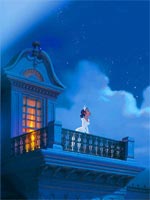 John Lasseter certainly gives good interview. We linked back in June to a candid and very thorough piece in which the Pixar maven talked through his up-and-down (and up again) history with Disney. Now Variety carries a worthwhile profile of the man, in anticipation of the lifetime-achievement Golden Lion he is due to receive at the Venice Film Festival next week.
In it, he reveals the supposed secret behind Pixar's unbroken run of hits (not to mention their enviable critical track record) to be a collaborative "creative brain trust," whereby an in-progress project is screened every three months, then critiqued and workshopped by Lasseter and the studio's leading creatives.
It's a process designed to nip potential story problems in the bud, while Lasseter and his collaborators would have you believe that such problems emerge more often than not:
"We fail a lot," admits "Toy Story 3" director Lee Unkrich. "We just don't fail by the time the movie comes out. John would be the first to tell you that every movie we've made has been at one point the biggest piece of garbage we've ever worked on."
He continues:
("Toy Story 2") "wasn't working at all," he says, until Lasseter stepped in at the 11th hour, tore up what was there and rebuilt the story to resonate with audiences, pulling off what many at the studio consider Pixar's best film. (And that was hardly an isolated case. "Ratatouille" was repaired much the same way, with "Incredibles" director Brad Bird overhauling the project late in the game. Lasseter even allowed director Andrew Stanton to "reshoot" a couple scenes on "Wall-E" — a costly fix rare in animation.)
Such statements are interesting in that they run counter to the perceived auteur sensibility that so many critics have attributed to recent Pixar works; as distinct as the voice of a Stanton is from that of a Bird, their films remain very much the creative property of their studio. Perhaps that's part of the reason why "Cars," the last film where Lasseter acted as both director and studio head, felt so heavily programmed and personality-free? Discuss.
Moving away from Pixar, and into his capacity as Disney chief, Lasseter expresses his dedication to keeping hand-drawn animation alive at the studio. Describing himself as "proud" of the upcoming "The Princess and the Frog," he is nevertheless careful not to place too much responsibility on the film:
Looking forward, Lasseter's Disney slate includes a mix of hand-drawn and computer-animated projects, and though both he and (Disney chairman Dick) Cook are hopeful "Princess" will give them license to make more 2-D pics, they insist the fate of the format doesn't rely on the success or failure of that one film.

Lasseter is already planning other hand-drawn projects at Disney Animation. "Rapunzel," due out in 2010, will be CG, but the 2011 take on "Winnie the Pooh" could go either way.
Read the rest here.