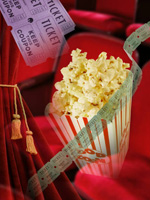 It seems every week somebody writes a comment on the Sunday Cents column questioning the historical figures I present or wondering why I choose to use adjusted numbers when I cite them. The answer, I suppose, is pretty simple. I feel that's the way to most accurately provide context for what happens today.
Tracking box office in general is a fool's game. Box office reporting is done by the studios that release the films on, more or less, the honor system. In other words, a theater playing "Julie & Julia" calls Sony and reports their gross and Sony compiles it and reports it to the press. What's stopping them from inflating the actual figures? Nothing really.
There are independent services that also compile grosses from theaters and every studio has a general idea of what every other film is doing but neither is 100% accurate. So when it comes time to report a final figure for "Indiana Jones and the Kingdom of the Crystal Skull"'s opening weekend ($100.1 million, if you forgot), there's no way that Paramount is reporting a figure under $100 million, even if it actually clocked in at $99.2 million.
Another example: Sony stops reporting grosses for their films after a certain point while Fox reports until there isn't a single screen left playing their picture. So "Angels & Demons" has a reported final gross of $133.4 million but it was still in 247 theaters when Sony stopped reporting. If Fox had done the same thing, "Mr. & Mrs. Smith" would have a final gross of $207.6 million and not $208.7 million. Not a big deal? Maybe not, but the point remains that reported figures and historical data is far from 100% accurate. And yes, those "Mr. & Mrs. Smith" numbers are adjusted.
Finally, Kris has said before that he thinks dollar figures should be thrown out altogether and the number of tickets sold should be used instead. There's a lot of logic to this since "Shrek 2" can sell three child-priced tickets in Iowa for $15 and "Moon" can sell one adult ticket at the Arclight and it's worth $14.50. Fair? Hardly, and it makes the box office performance of kids films like "Shrek 2" all the more impressive. Again, all that is to say that box office should be used as a general barometer for success and not the be all, end all of judging performance.
So the argument against using adjusted figures is that it doesn't accurately take into account things like Netflix, new media options and release patterns that are constantly changing, so the comparison is moot. Let's look at "Titanic." It opened with $28.6 million in 1997. Adjusted that becomes $44.8 million. Not adjusting means that we should be saying "Titanic" is comparable to "The Ugly Truth" and "Obsessed." Adjusting means that "Titanic" is comparable to "The Hangover" and "Terminator Salvation." Which makes more sense?
Sure, in 1997, people didn't have huge flat screen TVs and Blu-ray DVDs coming out a few months after the theatrical release, but films were also released in far less theaters. "Terminator Salvation" opened in 3,530 theaters and "Titanic" opened in 2,674, so it evens out. If you go back to the 1980s, "Rocky III" opened in 939 theaters, so at that point it becomes silly to compare opening weekend figures. Accurate figures before 1982 simply don't exist so those films are a non-issue. But I don't think it's crazy to adjust the numbers when comparing "X-Men Origins: Wolverine" with the other three "X-Men" films. Has anything really changed since 2000 aside from the price of a ticket? I don't think so.
Let me hear your thoughts or questions in the comments and I'll be happy to address them.